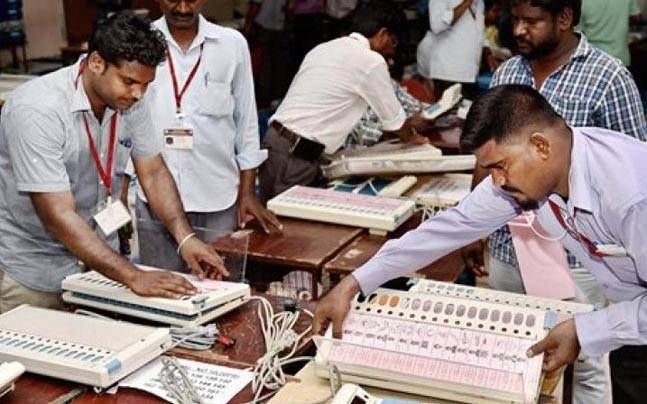 Counting of votes for by-elections in Arunachal Pradesh's Pakke-Kessang and Likabali and Uttar Pradesh's Sikandara constituencies began on Sunday morning.
The results are expected to be out by afternoon. The elections for these constituencies were held on 21 December.
In Uttar Pradesh's Sikandara nearly 53 percent of the total 3.21 lakh electorate had cast their votes in the Assembly by-election on 21 December.
Sikandra constituency falls in Kanpur Dehat district, a place which gained notoriety after the 1981 Behmai massacre of 21 upper caste Rajputs allegedly by Phoolan Devi and her gang.
The bypoll was necessitated following the death of sitting BJP MLA Mathura Prasad Pal on 22 July due to illness. BJP had fielded Pal's son Ajit Pal Singh, who fought mainly against Seema Sachan of Samajwadi Party and Prabhakar of Congress party. A total of 12 aspirants were in fray, including five independent candidates.
In Arunachal Pradesh's Pakke-Kessang and Likabali, an average 68.5 percent votes were cast during the polling on Thursday. Pakke-Kessang recorded 86 percent polling, while Likabali constituency recorded 51 percent.
Former Arunachal Pradesh deputy chief minister Kameng Dolo (Congress) contested against BJP nominee BR Waghe in Pakke-Kessang, while the Likabali constituency witnessed a multi-cornered contest featuring Kardo Nyigyor (BJP), Modam Dini (Congress), Gumke Riba of Peoples' Party of Arunachal and Independent candidate Sengo Taipodia.
The Likabali seat had fallen vacant after the death of state health and family welfare minister Jomde Kena in September, whereas, the Pakke-Kessang fell vacant after the Gauhati High Court declared null and void the election of Kameng Dolo from the seat in 2014 following an election petition filed against him by BJP nominee and former minister Atum Welly.