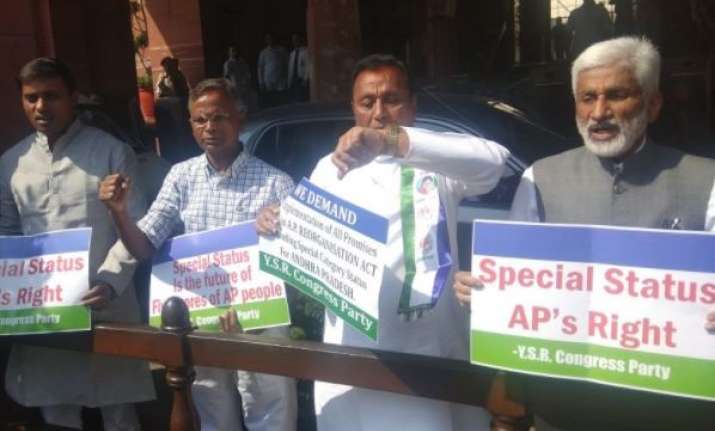 Another day of the Budget Session was marred by the protests by Opposition parties over various issues. Rajya Sabha was suspended till 2pm within first 5 minutes fo the session. 
Today was the sixth consecutive day when the House witnessed bedlam. The first week of the second part of the Budget session which began on March 5 had been a virtual washout. 
The Question Hour became a casualty once again as members from the TDP, TRS and AIADMK stormed the Well raising slogans. 
Members of the Congress were also on their feet.  The House was adjourned till 12 noon by Speaker Sumitra Mahajan within a few minutes of the start of proceedings and was later adjourned for the day. 
The Lok Sabha had been witnessing similar scenes since March 5 with parties raising a host of issues such as PNB fraud, special status for Andhra Pradesh, enhanced quota for Telangana and constitution of the Cauvery river board to settle Tamil Nadu's water dispute with neighbours.
A part of ruling NDA, TDP has also caused a series of disruptions over the special status to Andhra Pradesh. On Monday, the party MP YS Chowdary gave Adjournment Motion notice in Rajya Sabha over the matter. YSR Congress Party MP Vijay Sai Reddy has given Calling Attention Motion in Rajya Sabha over the same issue. Meanwhile, Aam Aadmi Party gave notice in the Upper House over short duration discussion on sealing in Delhi. TMC gave notice in Rajya Sabha under rule 168 over a discussion on PNB scam. ​TMC leaders were staging a protest in the Parliament premises over Electoral Reforms.
#Delhi: TDP MP's protest in Parliament premises demanding 'Special Category Status' to Andhra Pradesh. pic.twitter.com/8vGrGt6qEL

— ANI (@ANI) March 12, 2018
Earlier on Sunday, Rajya Sabha Chairman M Venkaiah Naidu warned that if the tend continued, the people would lose trust in politicians. 
Lamenting frequent disruptions in parliamentary proceedings, Naidu expressed concern over lack of quorum in the House and said that he had to press the quorum bell on several occasions.
The responsibility of having a quorum lay with the government as well as the opposition, Naidu said at the concluding session of a two-day conference of MPs and MLAs in the Central Hall of Parliament. 
He cautioned that if the trend continued, the "people would lose their trust" in lawmakers and the political class.