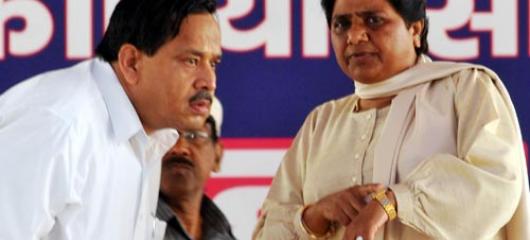 Desperate to make a comeback to power in Uttar Pradesh, the Bahujan Samaj Party (BJP) leaders have devised a new strategy to win over around 18 per cent Muslim electorate in the state.
According to a report in The Economic Times, the BSP leaders are now quoting verses from 'Quran' and 'Hadees' to win the Muslim voters and keep them away from the rival political parties like the ruling Samajwadi Party(SP) and the Congress. 
"Your 'Hadees' says that a group of travellers need a Qaid (leader) to reach their destination ... Dalits have followed this teaching and followed one leader (Mayawati). The community that was slave for 5,000 years became king following your Hadees," Atar Singh Rao, the BSP legislator told the Muslim gathering in Bahjoi on Wednesday.
Reminding the Muslims of their glorious past, Rao said that Red Fort, Qutub Minar and Taj Mahal were shining examples of their royal lineage.
He  appealed for unity among the Muslim community and said that they should not let their votes split during elections. 
"You come together for prayers and funerals but get split at the time of voting," he reminded them. 
After that, the BSP legislator, referred to party's tallest Muslim leader Naseemuddin Siddiqui as a potential 'Qaid' (leader) and appealed to the Muslims of the state to rally behind him. 
Rao reminded the crowd how Naseemuddin Siddiqui virtually shared equal power with Mayawati as "a minister with 18 portfolios" during previous BSP regime. 
Continuing from where Rao had left, Naseemuddin Siddiqui told the crowd, "Caravans without a leader gets lost and ransacked."
Siddiqui further said that the Muslim community has been used as "Tej Patta" (bay leaves) by parties to spice up their electoral prospects only to be thrown aside after the elections. 
He also alleged that that SP was hobnobbing with BJP to create Hindu-Muslim rift for electoral gains and cautioned the Muslims to be vigilant against them.
Interestingly, as part of BSP's Muslim outreach,  Naseemuddin Siddiqui is holding at least one Muslim meeting daily and his son Afzal ensures that all such meetings start with recitation of verses from Quran.