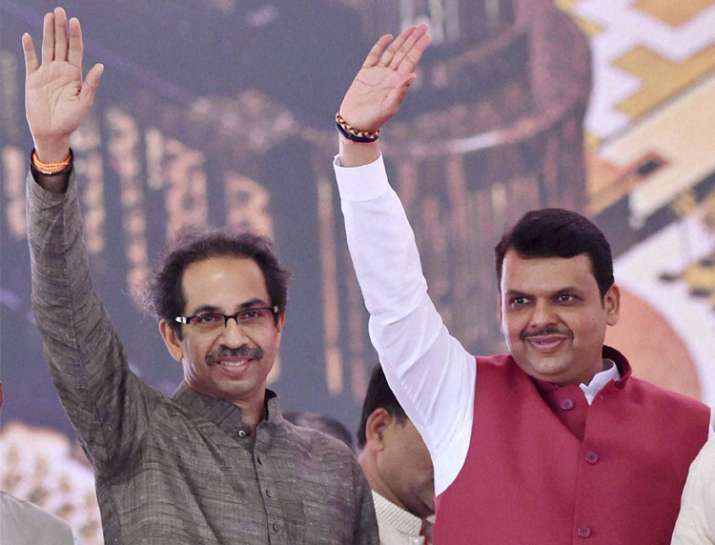 Elections to ten civic bodies in Maharashtra, including the cash-rich BMC, which have virtually turned into a battle of prestige for Chief Minister Devendra Fadnavis and Shiv Sena chief Uddhav Thackeray, will be held tomorrow. 
Apart from the ten civic bodies, the second phase of polling for 11 Zilla Parishads (ZPs) and 118 panchayat samitis will also be conducted tomorrow. 
Dubbed as a "mini Assembly election", over 1.95 crore voters across the state are entitled to exercise their franchise to choose representatives for ten city corporations, while over 1.80 crore people can cast their votes in the ZP and panchayat samiti polls. 
The big poll focus is on Brihanmumbai Municipal Cooperation (BMC), retaining control of which is vital for Shiv Sena as the city has remained its prime political space ever since the party's formation in 1966. Shiv Sena has been in power in BMC for over two decades. 
Besides Mumbai, the other municipal corporations going to polls tomorrow include Thane, Ulhasnagar, Pune, Nashik, Nagpur, Akola, Pimpri-Chinchwad and Solapur. 
Stakes are high for both Fadnavis and Thackeray, who have led their respective parties from the front and were involved in a high decibel and no holds barred campaign. 
Bitter acrimony between BJP and Shiv Sena that are fighting the civic polls separately for the first time in over two decades marked the electioneering. 
BJP, which had been a junior partner of Sena before it gained the upper hand through the 2014 Lok Sabha and Assembly polls, declined to accept the number of seats offered by the Sena. It has set its eyes on gaining power in BMC, one of the world's largest city bodies, boasting of an annual budget of over Rs 37,000 crore. 
Congress, NCP and MNS are also in the fray. 
"Collectively, 3.77 crore voters are eligible to decide the fate of 17,331 candidates in rural and urban areas, including Mumbai," State Election Commissioner J S Saharia told reporters here, adding that the election machinery is fully geared up to ensure free and fair voting. 
Saharia said for the 1,268 seats across the ten municipal corporations, 9,208 candidates are in the fray, whereas for 11 ZPs, total 2,956 candidates will try their luck for 654 seats.
 
For the 1,288 seats across 118 panchayat samitis, total 5,167 candidates are in the fray. 
"As many as 43,160 polling booths have been set up. There will be 2.76 lakh election staff and equal number of police personnel on the duty," Saharia said. 
In Mumbai, the country's financial capital, total 2,275 candidates are in fray for the 227 seats. 92 lakh people are eligible to cast the vote in the megapolis, he said, adding that there will be 7,304 polling stations. 
In municipal corporations excluding Mumbai, there are multi-member wards, where a voter will have to cast his vote for each of the category in the panel. Each panel has more than two wards. 
Giving a break-up of candidates in the nine civic bodies, Saharia said 805 candidates are contesting polls for the 131-member Thane Municipal Corporation (TMC), 479 for the 78-member Ulhasnagar Municipal Corporation (UMC), 774 for the 128 seats in Pimpri Chinchwad Municipal Corporation (PCMC) and 623 are in the fray for the 102-member Solapur Municipal Corporation (SMP). 
Similarly, for the 122-member Nashik Municipal Corporation (NMC), there are 821 candidates in the fray, whereas for the 80-member Akola Municipal Corporation (AMC), 579 candidates are fighting the election. 
For the 151-member Nagpur civic corporation, there are 1,135 candidates in fray, while for the 162 seats of Pune Municipal Corporation (PMC), a total 1,090 candidates are contesting the election, Saharia said. 
Giving details of the implementation of the code of conduct, Saharia said over 200 illegal weapons were seized in different parts of the state in which 188 weapons were seized from areas under municipal corporations. 
Police seized three lakh litres of liquor, he said, adding that the Excise Department seized alcohol worth over Rs four crore, Saharia said. 
According to him, 338 cases of poll code violations were registered, he said, adding that as many as 371 persons were externed. "Action of preventive detention was taken against 33,000 people, including 3,000 in Mumbai. Cash worth Rs 61 lakh was seized," he said. 
According to Saharia, for 11 ZPs, there are 22,000 polling stations and 1.5 lakh election staff will be on duty "for the ten municipal corporations, there are 21,000 polling stations and 1.3 lakh election staff will be on duty," he said. 
BJP expecting 55% voter turnout in BMC polls
The BJP is expecting at least 55 per cent voter turnout in tomorrow's Brihanmumbai Municipal Corporation (BMC) elections and has appointed one person per 200 voters to ensure they exercise their franchise. 
"Mumbai unit of the BJP has decided to appoint one booth level party worker behind 200 voters. The party worker is asked to concentrate on his or her 200 voters alone. Our worker will ensure that all the 200 voters will vote and they will report to their seniors accordingly," the BJP chief spokesperson Madhav Bhandari said today. 
This system requires a mammoth manpower of some 6,000 workers to track the voters, followed by our other community-based functionaries who will also mobilise the voters, he said. 
"The efforts are being taken to increase the polling percentage, which is generally below 50%. We are expecting at least 55% turnout tomorrow," Bhandari said, adding the BJP will emerge as the number one party. 
For the BJP, the stakes are high for the polls as it is pitted against its alliance partner, the Shiv Sena on its home turf of Mumbai. 
Chief Minister Devendra Fadnavis is pulling out all the stops to capture power at the country's richest civic body and attacked the Uddhav Thackeray-led party relentlessly during the campaigning. 
When asked if the politics of identity will weigh on the polls, Bhandari said, "This is not going to be a major issue. BJP has given some representation to North Indian community and they will support us." 
On the role of the Maharashtra Navnirman Sena, which has been reduced to a marginal player, the BJP leader said the Raj Thackeray-led outfit would not play a role of spoiler. 
(With PTI inputs)