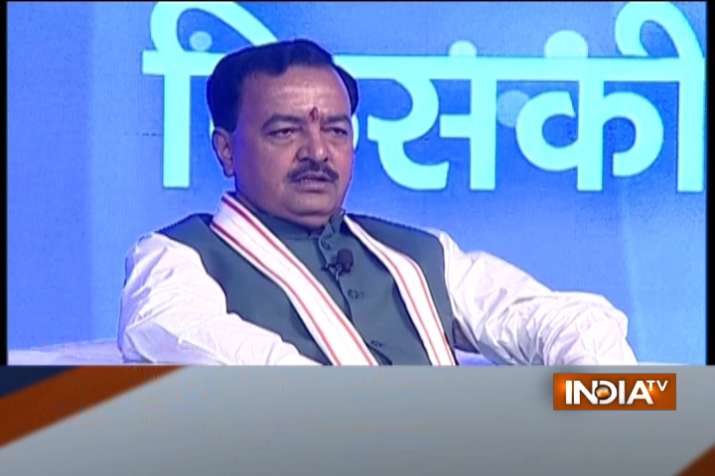 Bharatiya Janata Party's UP unit chief Keshav Prasad Maurya today expressed confidence that his party will storm to power with two-thirds majority in the Assembly elections in 2017.


"The BJP will win over 300 seats in Uttar Pradesh 2017 elections," he said in a panel discussion at India TV's conclave Chunav Manch in Lucknow.


When specifically asked about the party's chief ministerial candidate, he replied, "There is no crisis within the party over CM face… party's parliamentary board will decide CM after elections."


"I am telling you that the Chief Minister who will take oath next year will be of the BJP. He/she will be from Uttar Pradesh, not from Delhi or Mumbai," he added.


He also accused the Samajwadi Party government of not implementing the central government's schemes properly and not utilising funds.


The UP BJP chief also spoke in the controversy over the Kairana exodus. Targetting the SP government, Maurya said, "The SP is protecting goons of a particular community in Kairana."


On a question on BJP leader Sangeet Som's statement that UP would turn into Pakistan if the BJP does not come into power in the elections, Maurya said that such a scenario was no longer possible in any state under the leadership of Narendra Modi.


"It is impossible for any state to turn into Pakistan under Narendra Modi's leadership," he said.


Apna Dal leader and Union Minister Anupriya Patel, who was also part of the discussion, said that both the parties believe in democracy and that the parliamentary board will take call on CM.


"SP decides on their CM candidate over dining table," she said while referring to family rift in Samajwadi Party.
Of the four major political parties in the state -- BJP, Congress, Bahujan Samaj Party (BSP) and Samajwadi Party, the BJP alone has not announced a chief ministerial candidate.


While SP's Akhilesh Yadav (incumbent) and the BSP's Mayawati are the obvious candidates from both parties, the Congress has declared former Delhi chief minister Sheila Dikshit as its nominee.