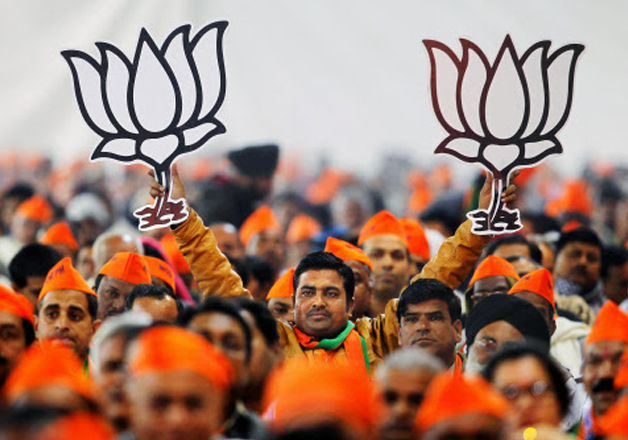 The BJP is all set to launch first leg of four 'Parivartan Yatras' in Uttar Pradesh, where assembly polls will be held early next year, from Saharanpur.
The second yatra will be launched from Jhansi on November 6 and third and fourth from Sonbhadra and Balia on November 8 and 9, respectively. The four yatras will converge in Lucknow on December 24 after traversing over 17,000 km.
Briefing media about the yatras in New Delhi, senior party leader and Union Minister Ravi Shankar Prasad Prasad said that people's participation and development will be central themes of the yatras.
He said that there will 4,500 welcome programmes for these four yatras and these will travel 100 km each per day. The party will organise various programmes focusing on youths, women, dalits and the backwards in all 403 Assembly constituencies.
Each yatra will have 15 vehicles and over 100 leaders and workers accompanying it. 15,000 'parivartan sarthis' will travel across the 50,000 panchayats of the state to reach out to masses, he said.
"Our campaign will be about taking the state from helplessness to hope," he said. 
Prasad also gave the slogan 'purn bahumat, sampoorn vikas; bhajapa per hai vishwas' (full majority, complete development; we have faith in BJP). 
According to party sources, Prime Minister Narendra Modi will address six regional meetings during the yatras, while Union Ministers Rajnath Singh and Kalraj Mishra, two leading saffron faces from the state, will be the key speaker at 10 meetings each. 
Besides, BJP president Amit Shah will address 10 other rallies. The party has planned 30 rallies of its national leaders. Uma Bharti will attend six of them. 
BJP allies Ram Vilas Paswan and Ramdas Athawale, two Dalit faces of the NDA, and Uprendra Kushwaha will also be joining the yatras.