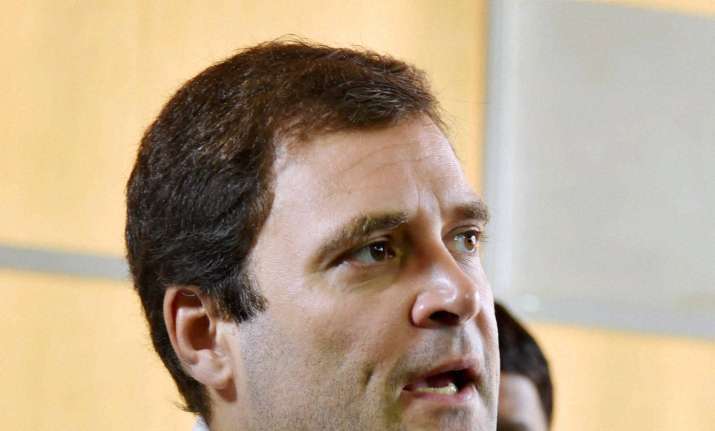 New Delhi: The Bharatiya Janata party (BJP) today mocked Congress vice-president Rahul Gandhi for taking credit for the rollback of Employees Provident Fund tax on EPF withdrawal, saying he can take credit for GST too if he lets it pass in Parliament.
"Congress and Rahul Gandhi can take credit for all decisions. He can take credit for the passage of GST and other bills if he lets Parliament function and helps the government in the passage of the bills. These are not the bills of BJP but of the country," a BJP leader told a private news channel.
On Tuesday, Jaitely had announced government's decision to withdraw proposal to bring EPF under tax rule to which Rahul had claimed that it was actually 'his' pressure that made the government take this decision.
"My pressure worked... I had warned the government against suppressing salaried class. I felt middle-class people were being hurt by the government, so I decided to put some pressure. Happy that they have got some relief," Rahul had said.
Parliamentary Affair Minister Venkaiah Naidu immediately dismissed Rahul's claim saying, "Rahul can take credit for the passage of Good Service Tax (GST) and other bills too if he allows the Parliament to function properly and help the government in the passage of the bills."
The GST, dubbed as the biggest indirect tax reform since Independence, is pending in the Rajya Sabha because of opposition by the Congress. The Congress is insisting that the government must meet its demands of including a cap on the GST rate at 18 per cent, deletion of the provision for one percent tax by additional levy and an independent dispute resolution mechanism.
The GST will subsume central excise, state value added tax, entertainment tax, octroi, entry tax, luxury tax and purchase tax on goods and services and will bring about a uniform indirect tax regime.