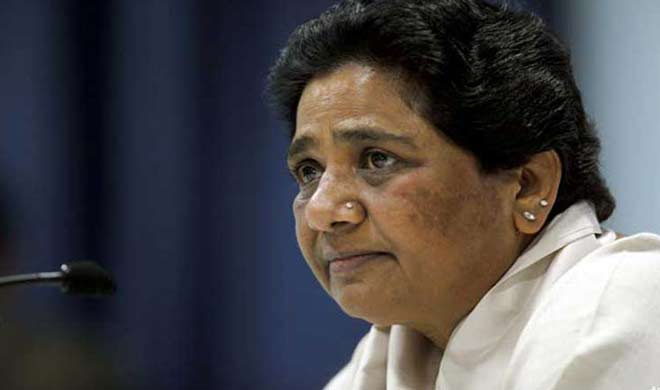 New Delhi: Dayashankar Singh, the Bharatiya Janata Party's vice-president in Uttar Pradesh, on Wednesday stirred up a hornet's nest after he said that Bahujan Samaj Party (BSP) chief and former chief minister Mayawati is "worse than a prostitute".
Singh made the controversial statement during his visit to Mau in UP. Talking to media, he said:
"Even a prostitute fulfills her commitment after she is paid. But Mayawati sells party tickets to anyone who paid her the highest amount. If someone gives her Rs 1 crore for a ticket she will give it to other person who is offering Rs 2 crore," Singh said.
"Mayawati has become worse than a prostitute and abandons the ideals of Kanshi Ram," he said.
WATCH: UP BJP VP Dayashankar Singh uses derogatory language against BSP Chief Mayawati, compares her to a prostitutehttps://t.co/vic0uDhbkq

— ANI UP (@ANINewsUP) July 20, 2016
The BJP leader also claimed that the party will win over 300 seats in the upcoming Uttar Pradesh Assembly elections.
Lambasting BJP, BSP chief Mayawati said, "It is clear that BJP is scared by BSP's growing influence in UP and other states and that's why they are giving such statements".
"Since the BJP-led government has come to power (at the Centre), the Dalits are being exploited at different levels. There are several incidents, and this reflects the narrow and casteist mindset of this party towards these groups," Mayawati had said.
These kind of derogatory statements show that BJP is frustrated with the growing public support for BSP: Mayawati pic.twitter.com/oOxu4DnCLy

— ANI UP (@ANINewsUP) July 20, 2016
Daya Shankar Singh is one of the 15 vice president of the BJP in Uttar Pradesh, where campaigning for elections next year is picking up pace and aggression.
Meanwhile, the BJP has distanced itself from Dayashankar Singh's remark.
Finance Minister Arun Jaitley today expressed "deep regret" in Parliament as the ruling BJP tried to control damage after its leader in Uttar Pradesh was heard on camera hurling no-holds-barred abuse at rival politician Mayawati and comparing her to a prostitute.
"I express personal regret. I associate with your dignity and stand with you," Jaitley said in the Rajya Sabha.
UP BJP chief Keshav Prasad Maurya has apologised for Dayashankar's objectionable remarks. "I think this is wrong and I apologise. Such words shouldn't be used," said Keshav Maurya.
"We respect Mayawati and we condemn such statement made by any person," said BJP's Mukhtar Abbas Naqvi.
Meanwhile the Congress has also stepped up its attacks on the BJP following the objectionable remark. "It shows the mentality of the BJP," said Congress leader Ghulam Nabi Azad.