Follow us on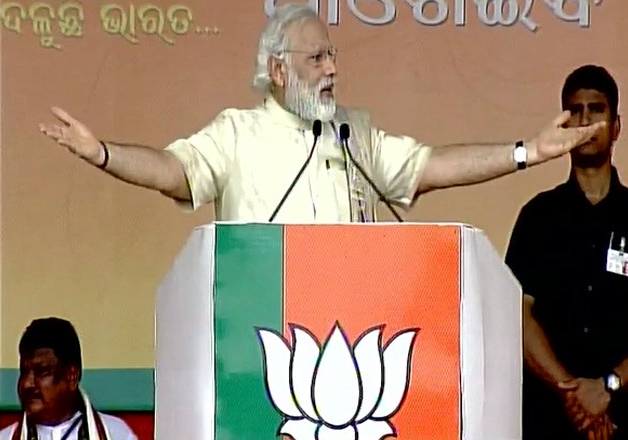 Balasore (Odisha): Prime Minister Narendra Modi today said that eastern India has remained economically backward and that his government has focussed its development plan to uproot poverty from the region.
Addressing a rally here, the Prime Minister said that BJP-ruled states Maharashtra, Gujarat, Madhya Pradesh, Rajasthan, Chhattisgarh and Haryana are 'more developed states' in the country than Bihar, West Bengal, Assam and Odisha.
"Poverty (in the eastern region) is increasing. People from here go to western states for jobs. Why? You have every resource to be self-sufficient. God has given you everything," he said.
"But despite that, why is poverty still chasing us? Eastern India needs more development. And that is why all our developmental plans have preferred eastern states including Odisha," he added.
The Prime Minister said that the policies of NDA government are directly 'related to everyday problems of the poor in India'.
"Who needs government? Do rich people need government? If anybody needs it, it is the poor of the nation. Governments are for the poor... we have to defeat poverty. Get rid of it. And that is why we work towards the empowerment of the poor," Modi said.
Modi also said that the erstwhile government at the Centre had only shouted slogans to eradicate poverty.
"Their intentions may have been right. I am not doubting that. But their path was wrong," he said.
The Prime Minister said his government has already electrified more than 18,000 villages in India.
"These villages were without power even after nearly 70 years of independence and that is the beginning of empowerment of the poor. We have to take every step scientifically," Modi said.
'First time any govt has got such immense love'
PM Modi also said that "it is for the first time that a government continues to receive immense love from the people even in the third year of its tenure."
"There is no election, no protest, but still you all have come out here in this heat, which shows the immense love towards the government. By seeing such immense support from people, we get empowered to work more for the people of the country," Modi said.
The Prime Minister drew a contrast between his approach to governance with how the country was run previously.
"Earlier governments would think only they worked for the country and only they could take the country on the path of success, but our government believes in Jan Bhagidari, where contribution of every citizen is required for development," he said.
"Our government believes in Sabka Sath-Sabka Vikas (Everyone's Participation, Everyone's Development)," he added.
This was the fourth rally of PM Narendra Modi in last ten days as a part of the ruling BJP's 'Vikas Gaurav Yatra' to mark two years in the power at the Centre. Before this, he had addressed rallies at Uttar Pradesh's Saharanpur, Karnataka's Davangere and in Meghalaya's capital city Shilong.
The Narendra Modi government on May 26 completed two years in the power at the Centre. The BJP stormed to power at the Centre in May 2014 with a clear majority by bagging 282 seats, giving NDA an unexpected 336 seats.