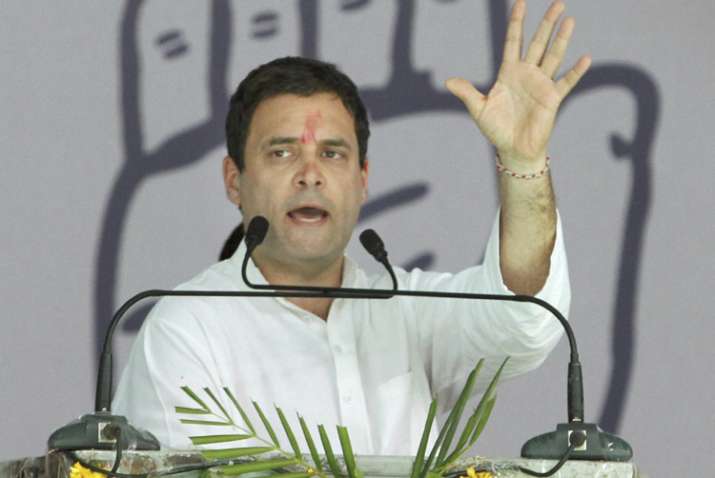 Seeking answers from Prime Minister Narendra Modi on a spate of lynching incidents, Congress vice-president Rahul Gandhi today said the BJP-ruled states are "descending into chaos and lawlessness."
Reacting to the lynching incidents in Jharakhand, Rahul tweeted, "From Raj(asthan) to UP, Haryana & now Jharkhand. BJP-ruled states are descending into chaos & lawlessness. Will the PM answer?"
The Congress leader also shared a picture of a 'victim' with folded hands who was begging for his life. 
From Raj to UP, Haryana & now Jharkhand BJP ruled states are descending into chaos & lawlessness.Will the PM answer? pic.twitter.com/iOU7sknFVI

— Office of RG (@OfficeOfRG) May 22, 2017
While four persons were lynched on Thursday in Rajnagar area of Jharkhand's Seraikela-Kharswan district on suspicion of child lifting, three more youths were lynched on the same suspicion in Nagadih in East Singhbhum district the same day.
A protest by a group of people against the lynching turned violent on Saturday leading to imposition of prohibitory orders under Section 144 CrPc in Mango and three other police station areas here from 10 pm that night to 6 am on Sunday.
Besides incidents in Jharkhand, there have been also reports of lynching in Rajasthan and Uttar Pradesh in the last week, besides various other law and order-related incidents in BJP-ruled states. 
 
Reacting to Gandhi's comments, senior Union Minister Smriti Irani said the law and order is a state subject and public does not support the Congress because of its disappointing "track record."
"Law and order is a state subject and they are working on it. As far as Rahul Gandhi's remarks are concerned, people do not support him as his party's track record is very disappointing," the Textiles minister said.