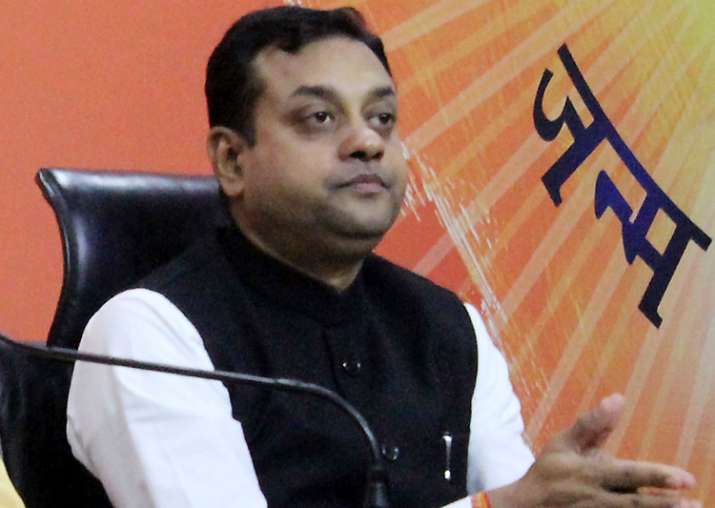 The Bharatiya Janata Party (BJP) today played down protests targeting Congress vice-president Rahul Gandhi during his visit to flood-hit Gujarat and termed it as an example of his 'photo opportunity'.
BJP spokesperson Sambit Patra said that the opposition party should 'respect' people's emotions. "For God's sake, don't call people goons. Don't call public of this country as rowdy elements, people who are suffering from floods, people who are tired of this kind of politics that Rahul Gandhi and his party are doing. Let's respect people's emotions," he said.
Patra said this soon after the Congress party alleged that 'BJP goons' were behind the stone attack on Rahul's car. Rahul, who arrived here on Friday on a day-long visit to flood-affected regions of north Gujarat, flew down to Dhanera straight from flood-affected Rajasthan areas and spoke to people from Manotra village as well as surrounding areas, before proceeding to the town's agriculture produce marketing yard to meet the farmers and traders there.
Later, as he reached Lal Chowk in Dhanera he met with crowds showing him black flags and shouting slogans for Prime Minister Modi while protesting against him. The Congress leader was to address a brief public meeting in Lal Chowk but it had to be cancelled after he was heckled. Police lathi-charged the people to disperse them and Gandhi left the scene. Even as his car moved on, people pelted water pouches at his cavalcade. He later proceeded on a visit of flood-hit villages of Banaskantha district. As he was going to Dhanera helipad, his car was pelted with stones and some window panes were shattered.
Patra further noted that people are 'tired of Rahul Gandhi's politics'. "While BJP MLAs in Gujarat are doing their best to help people, Congress MLAs are enjoying themselves in a resort in Bengaluru."
People are looking for their representatives but the Congress lawmakers are having fun in Karnataka, he said.
The Congress has transported its Gujarat MLAs to the southern state ruled by it in a bid to keep its flock together ahead of crucial Rajya Sabha polls in the state. Six of its MLAs have left the party recently.
Meanwhile, Chief Minister Vijay Rupani hit out at Rahul saying 'people know the tricks of the Congress rather too well'. 
"Their anti-people and anti-Gujarat mindset is not a secret. Rahul Gandhi's leadership style is working wonders in his party. Following him, Congress MLAs are also in vacation mode!" he tweeted.
Earlier, the Congress had dubbed attack on party Rahul's car as a 'dastardly' and said that 'violence and physical attack have become BJP's culture'. The party asked if Prime Minister Narendra Modi would answer about the 'serious lapse' in security as Rahul is an SPG protectee. 
In a series of tweets, Congress spokesperson Randeep Singh Surjewala alleged that the attack was an organised act by the BJP activists. "BJP goons attack Congress Vice President Rahulji's car in Lal Chowk, Dhanera, Banaskanta, Gujarat. Disgusting and disgraceful," said Surjewala on his Twitter page.
"With 218 deaths in Gujarat, 61 in Bansakanta alone, Prime Minister (Narendra Modi) only does an aerial visit while CM takes five days to visit. BJP only attacks opposition," he wrote.
"Windowpanes of Congress Vice President's car broken in an organised attack by goons, security staff injured. BJP must know truth can't be silenced. Violence and physical attack have become BJP's culture. Congress and Rahulji get more determined to raise people's voice after every attack," he added.
The spokesperson also said, "Rahulji is an SPG protectee. An attack under Gujarat BJP government's watch reflects not only serious lapse but tacit complicity. Will the Prime Minister answer?"
Condemning the attack, Leader of Opposition in the Rajya Sabha Ghulam Nabi Azad said, "The damage done to the motorcade and injury to security personnel clearly shows that it was a well-organised attack on Rahul Gandhi to harm him physically." 
"We strongly condemn the cult of violence for which the BJP and its cadres are famous. This is being deliberately done by the BJP to create an atmosphere of fear in the state of Gujarat just before the assembly elections. This is yet another example of intolerance exhibited by the BJP and its workers openly." 
Terming the attack appalling and reprehensible, another Congress leader Abhishek Manu Singhvi said, "It was a dastardly attack for no reason other than the fact that Rahul Gandhi dared to visit a flood-affected area in Banaskantha district." 
"Are we reaching a space in our democracy where political opponents are not allowed to practise democratic politics in terms of visiting areas and voicing opinion without any intimidation and throwing of bricks?" he said. "When a leader dares to visit Banaskantha, it is taken as an affront by the ruling party and their goons. This has to be condemned unequivocally across the board by every political party."