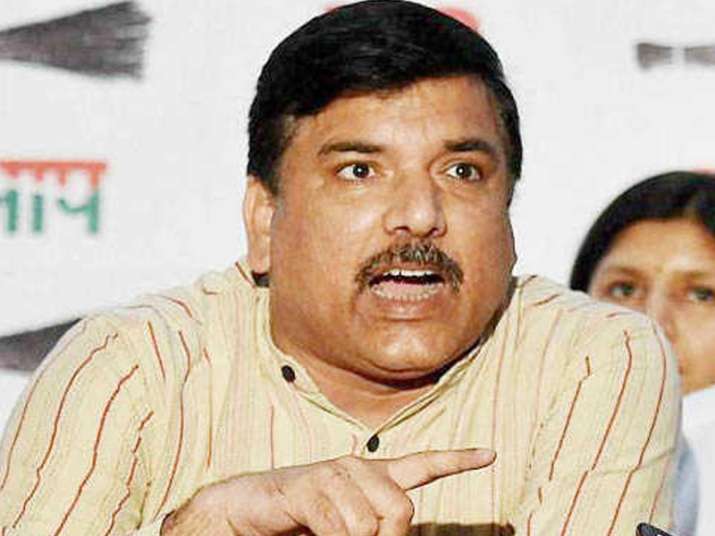 The Aam Aadmi Party (AAP) today dismissed sacked minister Kapil Mishra's charges of lying to the Election Commission (EC) about donations and laundering money through shell companies.
Addressing media here, party leader Sanjay Singh termed it as a 'conspiracy' by the BJP and said that the saffron party was shooting from the sacked minister's shoulder.
Singh said that the AAP has 'always' followed rules in maintaining its books.
"It is a conspiracy to de-recognise and de-register the AAP and the BJP is totally involved. What Kapil Mishra says, the BJP repeats it. What the BJP says, Kapil Mishra repeats," Singh said.
He said the central government and the BJP were out to crush the AAP and defame Chief Minister Arvind Kejriwal. 
"I ask BJP leaders to stop shooting from Mishra's shoulder," he said.
Singh said that the BJP and the Congress never made declarations of about 70-80 per cent of their donations totalling 'Rs 1,000 crore in the last 10 years... received from unknown sources'. 
"You (the BJP) are the same party whose (then) national President (Bangaru Laxman) was caught on camera while accepting bribe in a defence deal. You readmitted (former Karnataka Chief Minister) Yeddyurappa after sacking him on corruption charges. Despite 54 deaths in the (Madhya Pradesh) Vyapam scam, the BJP is silent," he said.
Earlier today, Mishra accused the AAP of lying to the Election Commission about donations and laundering money through shell companies, before he fainted midway through the presser and was hospitalised.
Mishra alleged that the AAP had over Rs 45 crore in its account in 2013-2014, but in its declaration to the poll panel it showed only Rs 9 crore, thereby concealing around Rs 36 crore.
"Three years later, when the EC sent a notice to the party asking for details of the declared Rs 9 crore, the party clarified they had Rs 30 crore," Mishra said at a press conference held at his official residence here.
"Out of this Rs 30 crore, the party did not reveal the details of Rs 15 crore to the EC," he added.
He alleged that during 2014-15, the party had around Rs 65 crore in its account but disclosed only Rs 32 crore whereas the fund details on AAP website showed Rs 27 crore.
"I have all the documents pertaining to the party's financial transactions which include 461 bogus entries in their account books," Mishra alleged.
Mishra said that since 2013, the AAP has been converting its black money into white through foreign trips of its senior leaders -- Durgesh Pathak, Ashish Khetan, Satyendar Jain, and Raghav Chaddha.
Mishra, who was first sacked as Delhi Water Minister on May 6 and later suspended from the party membership, began his indefinite protest fast on Wednesday, questioning who funded these foreign visits.
Earlier, he claimed to have seen Kejriwal accept Rs 2 crore in cash from Health Minister Satyendar Jain.