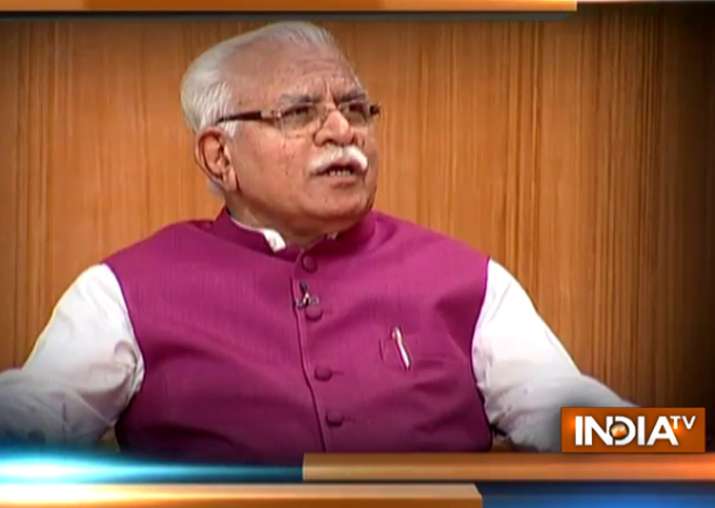 Refuting charges of the BJP striking a deal with rape convict Gurmeet Ram Rahim ahead of 2014 Haryana Assembly elections, Haryana Chief Minister Manohar Lal Khattar today asserted  that these allegations are baseless it is contrary to the character and culture of the saffron party.
Answering a volley of questions from India TV's Editor-in-chief Rajat Sharma in his  show "Aap Ki Adalat", Khattar replied, "Why would we enter into any deal with Ram Rahim? Our character is different. Our culture is different. Our work style is different. We always put the interest of the nation above the interest of any individual."
Taking a swipe at media for wrongly breaking the news about quantum of punishment given to Ram Rahim, the Haryana Chief Minister recalled how the media jumped the gun in hastily declaring that Ram Rahim was awarded 10 years of imprisonment with a fine of Rs 65,000 on August 28.
" Sometimes, I wonder whether I should comment on media or not. On the day the quantum of punishment for Ram Rahim was pronounced, the media declared at 4pm that he was awarded 10 years of imprisonment with a fine of Rs 65,000 although the actual judgement came at 6pm. This is how media works," Khattar remarked. 
Avoiding a direct answer to a question on  BJP leaders sweeping streets with Ram Rahim as part of PM Modi's  "Swachh Bharat Abhiyan",  Khattar said " If Ram Rahim desires, he can be given the task of cleaning the jail premises as a sweeper.  He would be contributing to Swacchta Abhiyan." 
For the first time, Manohar Lal Khattar will be sharing  Haryana government's perspective on the circumstances leading to the conviction of Dera Sacha Sauda  chief Ram Rahim, the subsequent violence and his incarceration in Rohtak jail, with  Rajat Sharma in his  show Aap Ki Adalat which will be telecast tonight at 10 pm on India TV. The repeat telecast will take place on Sunday afternoon at 1 pm , and at 10 pm the same night.  
Aap Ki Adalat promo 1
Aap Ki Adalat promo 2
Aap Ki Adalat promo 3