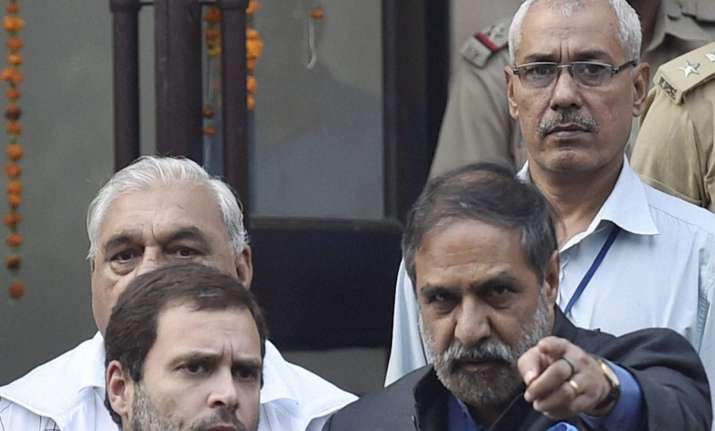 The Bharatiya Janata Party (BJP) today accused Congress vice-president of playing politics over the suicide by ex-serviceman Ram Kishan Grewal.
Blasting Rahul Gandhi for visiting the Ram Manohar Lohia Hospital to meet Grewal's grieving family, party spokesperson Nalin Kohli said that there is a time and place for everything.
Terming Rahul's action as unfortunate, Kohli asked the Congress vice-president to explain how many times he had made similar visits in the past. Kohli also took on the Aam Aadmi Party leadership on the same issue.
Grewal committed suicide on Tuesday evening over the alleged delay in the implementation of the 'One Rank One Pension' scheme for the armed forces and ex-servicemen.
Defending Gandhi's hospital visit, Congress leader P.C. Chacko said it was his duty to meet the grieving family.
"Wherever there is a problem, he can go. It is his duty. He is doing it in all sincerity," Chacko said.
"Is it for the BJP to decide where Rahul Gandhi will go?" the Congress leader asked.
Delhi BJP unit chief Satish Upadhyay said: "We condemn the politics being done by the Congress and Aam Aadmi Party over Grewal's suicide." 
Hitting out at the Congress for the delay in OROP, Upadhyay said: "Due to the callous neglect by the earlier Congress governments in the last two decades, the issue of OROP became very grave, forcing ex-servicemen to openly agitate." 
The BJP leader said that the Narendra Modi government made serious effort to resolve the OROP issue. 
Accusing the Congress of doing politics over Grewal's suicide, the BJP leader said: "The tears being shed by the Congress leaders are crocodile tears motivated by politics."
Lashing out at the AAP, Upadhyay said, "The statement of Delhi Chief Minister Arvind Kejriwal that it is a moral duty of the Chief Minister and his deputy to meet the family members of the deceased ex-serviceman appears a political melodrama."
"Kejriwal and Sisodia are the men who made no effort to save the life of farmer Gajender Chauhan who committed suicide in front of them at the Jantar Mantar last year. They then remained away from the public eyes for over 48 hours," he alleged.
Accusing the AAP of indulging in vote-bank politics, the BJP leader said: "The conduct of the AAP in the matter is totally immoral and intended to influence the votes of ex-servicemen and their families in various states."
"Modi's government has seriously worked to solve it. If some anomalies still exist, patience needs to be maintained in view of the determination shown by the government in the matter," Upadhyay added. 
(With IANS inputs)