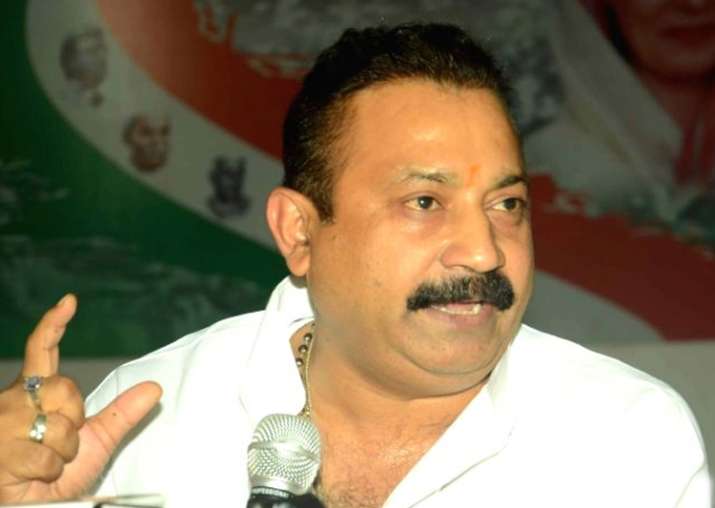 The president of Congress' Bihar unit, Ashok Choudhary, today accused "some" AICC leaders of fuelling rebellion against him with the "false propaganda" that he was making attempts to split the party. 
"Some AICC leaders are behind the crisis in the Congress in Bihar...they are fuelling rebellion against me by alleging that I am making attempts to break the party in favour of Nitish Kumar's JD(U) to replace me from PCC president's post with their favourite," Ashok Choudhary said. 
Choudhary, however, did not identify anyone but said "they would be unmasked very soon". 
The crisis within the Bihar Pradesh Congress Committee began when an audio tape was leaked in media in which Ashok Choudhary allegedly was caught planning with someone how to break party MLAs. The matter reached Rahul Gandhi following which he summoned all party legislators. It is being said that party may remove Choudhary from the post. The party has 27 MLAs and 6 MLCs.
The PCC chief did not go to Delhi on being summoned by Congress vice-president Rahul Gandhi for a meeting yesterday to stem the crisis in Bihar arising after the collapse of the Grand Alliance.  
"I did not go to Delhi due to personal reasons," Choudhary said. 
He claimed that "from the beginning, forces on behalf of some AICC leaders are working against me. First they mooted the issue of 'one man, one post' against me. I told the party leadership that I am ready to give up ministerial post in favour of the Congress state chief."
"Now that ministership has gone and I am left with only the post of PCC chief, they have spun lies against me that I am making attempts to trigger split in favour of Nitish Kumar's JD(U)." 
Reiterating his dedication for the party, Choudhary, whose father Mahavir Choudhary was a veteran Congress leader in Bihar hailing from dalit background, said, "I joined NSUI in student days and, over the past 25 years, I have been working to strengthen the party in Bihar.... I would have to struggle for another 15 years to explain that I did not make any attempt to split the party." 
Meanwhile, Congress vice-president Rahul Gandhi is meeting party MLAs from Bihar for the second consecutive day today in Delhi to prevent rebellion in its Bihar unit. 
Congress Legislature Party leader Sadanand Singh, who skipped yesterday's interaction with Rahul Gandhi citing personal reasons, has gone to the national capital to meet the party vice-president. 
Senior Congress MLAs like Ashok Kumar, Vijay Shankar Dubey and others are also closeted with Rahul Gandhi for the second consecutive day today to ward off the crisis in teh state unit.