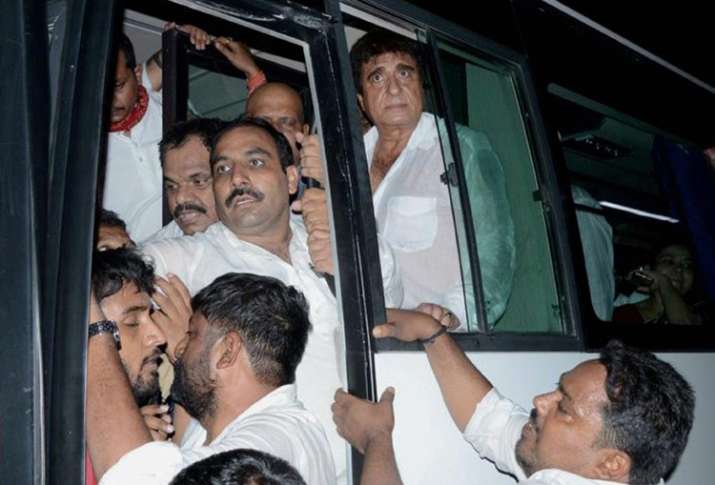 Congress leaders Raj Babbar and P L Punia, along with scores of party activists, were detained today when they tried to visit Banaras Hindu University (BHU) where students were lathicharged by police following overnight violence. 
They were released after about an hour, a district Congress leader said tonight. 
In the wake of the violence, the district administration issued instructions for declaring holidays from tomorrow till October 2 in all colleges and universities in Varanasi. 
Police also detained 16 students who refused to end their dharna against the police action. 
Uttar Pradesh Congress chief Raj Babbar and Rajya Sabha member Punia were stopped near Gilat Bazar by police when they were on their way to meet the protesting BHU students, a police officer said. 
Police tried to stop the Congress leaders at Varanasi's Lal Bahadur Shastri Airport as soon as they landed here, but they headed for the varsity along with scores of party workers. 
Many Congress workers sat on a dharna on the road after the leaders were detained, blocking traffic movement. 
A number of students, including women, and two journalists were injured in lathicharge by the police in BHU which witnessed violence last night, in an ugly turn to a protest against an alleged eve-teasing incident. 
Some policemen were also injured in the clashes during which students indulged in arson, police sources said.
Violence erupted after some students, protesting against the alleged eve-teasing incident of Thursday, wanted to meet the Vice Chancellor at his residence last night, according to police and university sources. 
The security guards of the university stopped them and the police was informed, according to the University sources. 
BHU spokesperson said some students wanted to "forcibly" enter the VC's residence but they were stopped by the security guards of the university. 
Subsequently, there was stone pelting by "outsiders" who had joined the students. 
Police used lathicharge to control the situation. 
The police officer said three FIRs have been registered on the matter at Lanka police station.