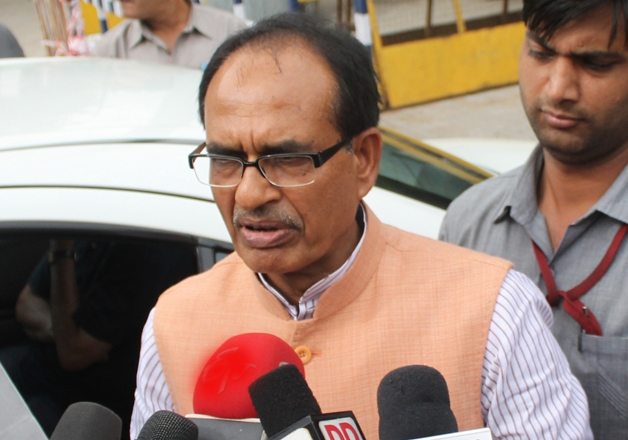 A day after Opposition parties criticised the government for killing eight SIMI terrorist, Madhya Pradesh Chief Minister Shivraj Singh Chouhan today said that political leaders should refrain from the habit of questioning police and security forces. 
Speaking to reporters after paying tributes to Head Constable Ramashankar Yadav, who was killed by the activists while escaping from the Bhopal Central Jail yesterday, Chouhan said he was pained to see that certain politicians were making a "hue and cry over the terrorists but not saying a word of solace for the martyred policemen."
"I am pained to see the kind of politics being played out. Some politicians are turning a blind eye to the sacrifices of the martyrs. They are unable to see the sacrifice of Ramashankar Yadav. These were the same terrorists who first killed Shivpratap Kushwaha (policeman) in Ratlam and then they murdered Sitaram Yadav (policeman) in Khandwa and now Ramashankar Yadav," he said. 
"...had there been some solidarity and sympathy for the martyred jawans...I would have understood. But, they are playing vote-bank politics over incidents like these," he added.
The CM also said that those killed were dreaded terrorists who could have wreaked devastation if they had been fully successful in escaping.
"Certain politicians are making a hue and cry for these terrorists but not lending a word of solace for the martyred jawans. I condemn such leaders and the dirty politics they are doing. But for the government and the public the nation and the state is foremost and I appeal everyone to stop playing dirty politics. Patriotism is important," he said.
Chouhan said Yadav tried to "single-handedly" fight the terrorists and stop them from escaping" and being a "dutiful officer" he laid down his life in the line of duty.
"This is such a patriotic family from where two sons are still serving to protect the country's borders," he said, underling the fact that Yadav's two sons are in the army.
He said the state government will take care of the family and has announced a Rs 10 lakh ex-gratia for Yadav's family and another Rs 5 lakh for the marriage of his daughter which is slated in December this year.
"This colony where he (Yadav) lived will be named Shaheed Ramashankar Yadav colony and a statue of his will also be installed. Funds are not a constraint and more aid and money will be provided to the family when it is required," the CM added
MP CM Shivraj Singh Chouhan arrives at the residence of Ramashankar Yadav (Head Constable who was killed in #BhopalJailbreak) pic.twitter.com/Yuhqul0Geo

— ANI (@ANI) November 1, 2016
Meanwhile, Madhya Pradesh Home Minister Bhupendra Singh said that the National Investigation Agency (NIA) will probe the jailbreak incident and not the encounter. 
"NIA will probe how SIMI terrorists escaped, there is no need for any investigation on the encounter," Singh said.
Kusum Mehdale, the Minister who handles prisons in the state, accepted that there were some lapses and but 'you should praise us for killing the accused even though they escaped'.
"I accept there are lapses on our part. Some CCTVs in the jail may not be working. How they managed to scale the wall I don't know. ...they were stopped from carrying out more dangerous acts."
The eight men were members of the banned group SIMI (Students Islamic Movement of India). Police has claimed they killed a security guard at the jail before managing to scale a wall over 30 feet high.
On the other hand, Digvijaya Singh once again reiterated his demand of a court monitored probe in the matter.
"Why do only Muslims break out of jail and not Hindus? NIA must conduct probe, court should monitor it. Also why only Muslims break out of jail, what is the problem, must also be probed," Singh said.
A major controversy erupted yesterday surrounding the encounter with political leaders questioning the police and government.