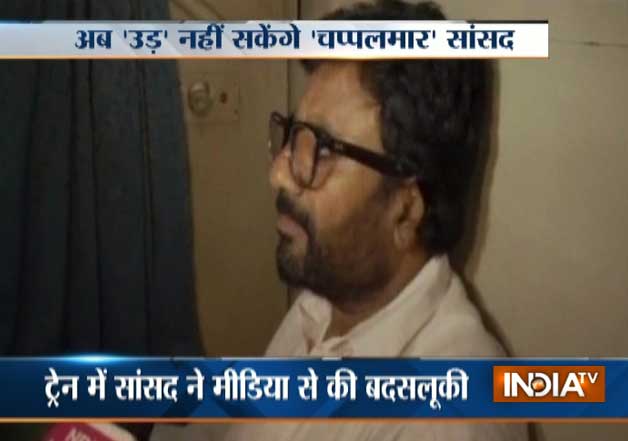 Shiv Sena MP Ravindra Gaikwad had to take a train on Friday for travelling to Mumbai after he was barred from flying by all major airless for assaulting an Air India officer.
Gaikwad boarded the first-class coach of August Kranti Express from Delhi's Hazrat Nizamuddin Railway Station to Mumbai Central at around 5 pm on Friday.
He has been summoned by Shiv Sena supremo for consultation on the entire controversy.  
The Sena MP was expected to reach Mumbai by 10am today. However, talking to India TV over phone, Gaikwad said that he deboarded from the train at the Wapi station and is on the way for his village.
Gaikwad further said that he has explained his position to the party and the leadership is satisdfied with his explanation.
The Sena MP also said that he will return back to Delhi on Wednesday. 
"On reaching Mumbai, Gaikwad will meet Shiv Sena chief Uddhav Thackeray, who has summoned him," Sena's Rajya Sabha MP Anil Desai said.
The Sena MP also misbehaved with media persons inside the train. When the train reached Kota railway station, the scribes tried to get his reaction on the entire controversy after which Gaikwad lost his cool and asked the police to evict the media persons from the caoch.
Taking strong exception to Gaikwad's misconduct with the Air India staffer, all major airlines including the national flag carrier barred him from flying on their aircraft.
"Air India and member airlines have decided to ban this MP from flying on all our flights with immediate effect," the Federation of Indian Airlines (FIA) said in a statement on Friday.
"We believe that exemplary action should be taken in such incidents to protect employee morale and public safety," FIA Associate Director Ujjwal Dey said.
Earlier on Friday, the Shiv Sena MP tried to fly  to Pune on an Air India flight  but the national carrier cancelled his ticket.
Besides Air India, the airlines which have barred Gaikwad from flying are  IndiGo, Jet Airways, SpiceJet and Go Air, all FIA members. 
AirAsia and Vistara, which are not with FIA, have also joined them.
Ravindra Gaikwad on Thursday had beaten up 62-year-old Air India Duty Manager R Sukumar with slippers over not being able to fly business class despite having boarded an all-economy flight.  
After the incident, the Sena MP, instead of expressing regret over his behaviour, boasted that he beat up the Air India staffer "25 times" with his slipper. 
On Friday, a defiant Gaikwad once again refused to tender any apology saying it's the Air India staff who should apologise.
Not only that, he even dared the Delhi Police to arrest him.
"I dare the Delhi police to arrest me...I will not apologize, he (Air India staff) should come to me and apologize," Ravindra Gaikward told media persons in New Delhi.
Targeting the Air India Staff, who he hit "25 times" with slippers, Ravindra Gaikwad said that "a 60-year-old man must know how to behave."
Gaikwad, the Osmanabad MP, also claimed that his party Shiv Sena stood with him on this issue.
Acting on the  complaint filed by Air India, the Delhi Police on Friday registered an FIR against Gaikwad for assaulting an airline employee, including attempt to commit culpable homicide.
"We have registered an FIR and the case has been transferred to the Crime Branch for a through probe," Special Commissioner of Police Dependra Pathak said. 
Pathak said Gaikwad had been booked on charges of attempt to commit culpable homicide (Section 308 IPC) and assault or criminal force with intent to dishonour a person (Section 355 IPC).