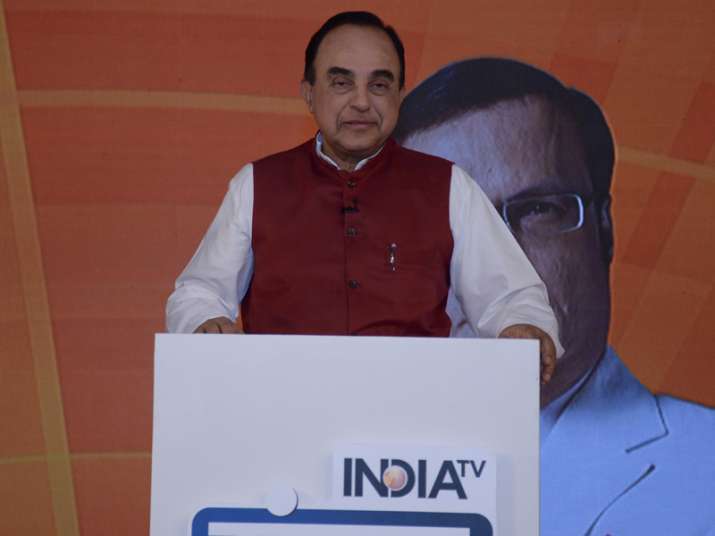 Firebrand BJP leader Subramanian Swamy today revealed 'plan b' to construct the Ram Temple at the disputed site in Ayodhya in case the Supreme Court delivers verdict favouring minorities. 
Ram Temple BJP's compulsion, part of our manifesto, says Subramanian Swamy

Ram Temple BJP's compulsion, part of our manifesto, says Subramanian Swamy

Ram Temple BJP's compulsion, part of our manifesto, says Subramanian Swamy
Participating in a panel discussion on India TV's 'Samvaad' conclave here, Swamy expressed confidence that the Supreme Court will soon begin daily hearing in the matter and deliver its judgement favouring Ram Temple. 
"Ram Temple will come up only after SC's judgement. I will move to the court again in July. I am hopeful of a daily hearing and by December the verdict will be out," he said.
"If the verdict goes against us, we can bring a bill in the Parliament just like the Congress had done in Shah Bano case. Next year, we will get majority in the Rajya Sabha as well, we can pass a law," Swamy added.
"We can overturn the Supreme Court verdict if it goes against us. I am confident that we will win," Swamy replied to a question from audience.
AIMIM leader Asaduddin Owaisi, who was also present on the dais, recalled Swamy that he had last year said that the 'construction of Ram Temple will begin by end of December'.
To this, Swamy said, "If the court is delaying the matter, what can I do? Mahatma Gandhi had in 1930 said that the country will get freedom in one year, but it took 17 years." 
"It (Ram Temple) is our compulsion because the BJP stormed to power on this plank. And it is mandatory because it is part of our manifesto," Swamy said. 
Owaisi further dared Swamy to ask Prime Minister Narendra Modi to 'order for a daily hearing in the matter'. 
"When the Supreme Court can function during the summer vacation (to discuss triple talaq), why can't the court start daily hearing in the matter?" he questioned.
Owaisi also pointed out that Swamy was not a party in the case. 
To this, Swamy said, "Yes, I am not a party in the property dispute. I have approached the court because it is my fundamental right." 
To a question about Chief Justice of India's offer of mediation by a Supreme Court judge, Owaisi said, "The SC knows very well that it can't offer to mediate without seeking the consent of original petitioners. The SC is running away from delivering the verdict. We demand daily hearing and the entire country will accept the verdict."
"It is a title dispute. We hope that the SC will deliver judgement on basis of the facts and papers and not on basis of faith," he noted.
Countering Owaisi, Swamy said that 'it was wrong to see temple and masjid through a same prism'.
"You can read namaz anywhere… on station, road… anywhere in open. But we can offer prayer at only place – that's the place of the Lord Ram's birth," he said. 
"As per the Islamic law, a masjid can be demolished, but when a temple is constructed, you can't shift it. Several Islamic nations like Iran have done in past," he added.
"I also believe that the court should decide. And I am confident that the verdict will be in our favour," he opined. 
Swamy said that there is no democracy wherever Muslims are in majority be it a country or Kashmir.
To this, Owiasi replied on a lighter note, "You should be made the Home Minister. What are you doing there (J&K). Not a single pandit has been rehabilitated." 
Congress leader Pramod Tiwari, the third speaker on the panel, lashed out at both saying 'Ayodhya is a political issue for them and they want to keep this alive for their political gains'.
"The issue (Ram Mandir) is a political matter for the BJP. It is not a matter of faith for them. Today he (Swamy) made it clear that the government was not behind him," Tiwari said.
"He has no work to do, he has enough free time. It is a diversion tactic by Swamy," he added.
Swam also took the opportunity to thank the Congress party for unlocking the Masjid in 80s.
"The lock of the Masjid was open by the Congress party only, I thank them. The inauguration was done by Rajiv Gandhi. Narasimha Rao delayed imposing the President rule to allow people to construct temple," he said.