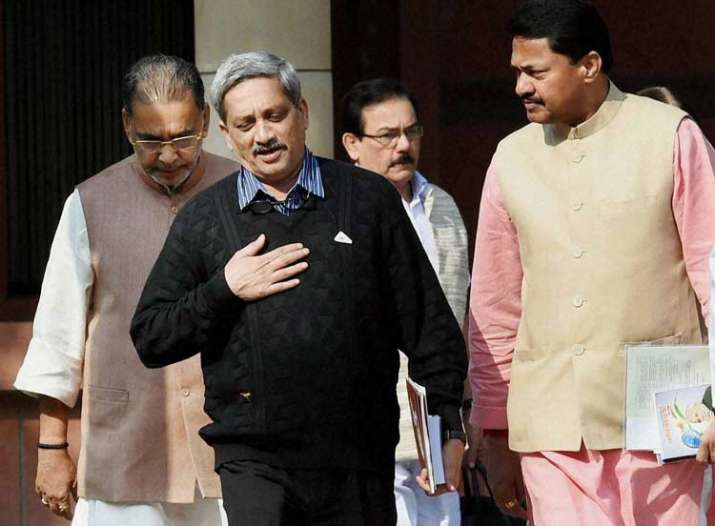 Prime Minister Narendra Modi should ask Defence Minister Manohar Parrikar to "gouge out Pakistan's eyes" to avenge the death of seven soldiers who were today killed in an attack on a military base in Nagrota near Jammu, Shiv Sena said. 
 Parrikar had on Saturday said that India did not seek war, but would "gouge out eyes" of the enemy if provoked.
Three days later, terrorists attacked a military base near Nagrota and killed seven personnel of the Indian Army, including two officers. 
Shiv Sena MP Sanjay Raut, while commenting on the Nagrota attack today said, "Defence Minister said if Pakistan looks at us with evil eye, we will gouge his eyes out and put them back in its hand. I felt so proud. Today two attacks took place. the Prime Minister must tell the Defence Minister to "go and gouge Pakistan's eyes and bring it"."
Addressing a rally in Goa on Saturday, Parrikar had said, "India did not seek war, but would gouge out eyes of the enemy if provoked. We don't itch for a fight, but if someone looks at the country with evil eye, we will gouge his eyes out and put them back in his hand, we have that much power." 
"Ever since the Uri attack happened, Pakistan has turned the heat and unleashed a string of attacks on us, while we are still beating the drum about one, lone surgical strike. Yes, we did carry out a surgical strike but clearly that has not silenced Pakistan. One mere surgical strike does not amount to teaching Pakistan a lesson," told ANI here.
In an attack on Nagrota military base, at least three terrorists lobbed grenades and opened fired at jawans during early hours today in which two Army officers and five jawans lost their lives.  
Shiv Sena's mouthpiece 'Saamana' also took a potshot at Parrikar's statement and said Modi's pre-poll promise of teaching Pakistan a lesson was only to garner votes.
"Whenever Parrikar is speaking in Goa, Pakistan related terror activities are active at the border or our jawans are killed. The defence minister should speak less but do more work without speaking much about it," an editorial in Sena mouthpiece 'Saamana' said today. 
Stating that when one speaks at rallies, one gets to hear claps from the audience, the editorial said, "If one looks at the speeches given by Prime Minister Narendra Modi during Lok Sabha polls, it will be evident. 
"People voted in large numbers for Modi because he said he will teach Pakistan a lesson and wipe that country out if required. But nothing of that sort has happened." 
Sena said that Pathankot terror attacks, infiltration bids from Pakistan border, Uri attacks in which 20 armymen were killed have all taken place when Parrikar helmed the Defence ministry.