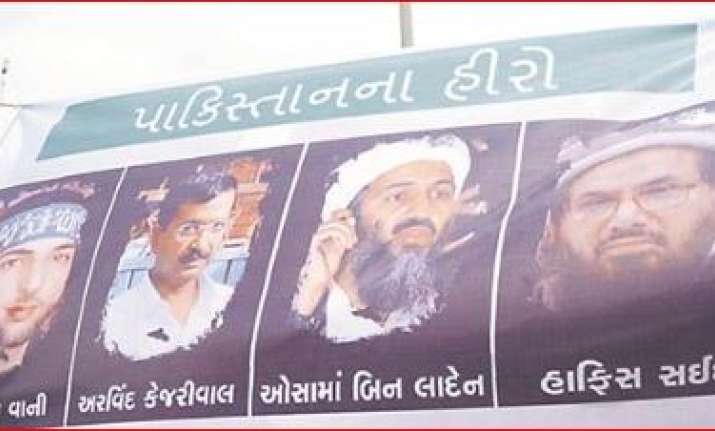 Three days before his rally in Surat, posters of Aam Aadmi Party (AAP) supremo Arvind Kejriwal with slain Hizbul terrorist Burhan Wani, JuD chief Hafiz Saeed and the slain Al-Qaeda chief Osama bin Laden surfaced across the city on Thursday.
These posters termed all the four – Kejriwal, Burhan, Hafiz and Osama – as "heroes of Pakistan".
After getting information about these posters, AAP leaders removed them from different locations in the city.
  
The AAP alleged that these posters were put up by the BJP as they don't want Arvind Kejriwal's rally to take place in the city.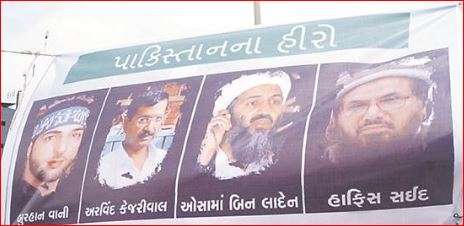 "The banners had been put up by BJP workers as they don't want Kejriwal meeting to take place. We have removed eight such banners. We are expecting over one lakh people to attend Kejriwal's public meeting. AAP leaders Kumar Vishwas and Sanjay Singh will also accompany Kejriwal," Surat AAP spokesperson Yogesh Jadvani was quoted as saying by The Indian Express. 
The BJP, however, denied these allegations and said that it has nothing to do with these posters. 
"We have told BJP workers that they should not oppose Kejriwal's visit to Surat. I am sure no BJP worker will do this. A few days ago, a few banners featuring Kejriwal were blackened. They alleged that it was the BJP's doing. But, later, it was found that AAP worker Ajit Tiwari of Surat had done that. AAP leaders are resorting to such tactics to get publicity and, on the other hand, they are trying to defame us. We have nothing to do with these banners," Surat city BJP president Nitin Bhajiyawala told The Indian Express.