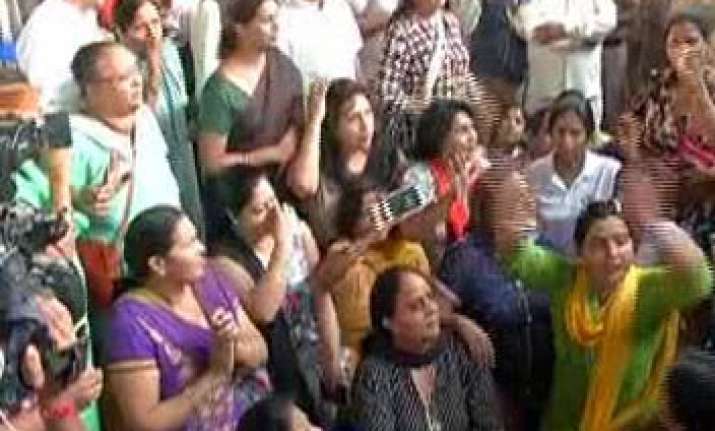 BJP Mahila Morcha volunteers on Wednesday mobbed Delhi Chief Minister Arvind Kejriwal at New Delhi railway station as he boarded a train to Punjab for a five-day visit.
As the Chief Minister boarded a Shatabdi train to Ludhiana, women activists shouted slogans 'Kejriwal hai hai. Kejriwal istifa do'. Kejriwal is going to Ludhiana to hold meetings with the candidates for the 2017 Punjab Assembly election.
They also protested against sacked Aam Aadmi Party (AAP) minister Sandeep Kumar, who has been accused of rape by a woman who featured in a sex tape with him.    
The protestors demanded CM to speak on misconduct of his MLAs & expel party member Ashutosh from AAP for his controversial article.
This comes just days after AAP MLA Devendra Sherawat claimed that AAP leaders in Punjab were sexually exploiting women in return for tickets.
Meanwhile, AAP has alleged a security breach and accused the Delhi Police of failing to protect the Chief Minister.
Visuals showed Mr Kejriwal surrounded by supporters while climbing onto the train, as policemen tried to keep protesters away.
His deputy Manish Sisodia targeted Prime Minister Narendra Modi and the BJP, saying the crowd at the station was part of a conspiracy.
Earlier, Delhi Police expressed its inability to provide security to Chief Minister Arvind Kejriwal during his five-day visit to Punjab, saying it "does not have jurisdiction over that state".
However, the Punjab Police has been requested to provide security to Kejriwal during his visit to the state, police sources said.
Ads by ZINC
"We have not refused him security. He is leaving Delhi for Punjab for five days. As per the security norms, if he travels by train or car, we are supposed to drop him at the first destination in that state and thereafter, the state police takes over," said a senior Delhi Police official.
The rules have been followed. Any VIP going to any other state is not provided "all components of security", said the officer, adding that security is a matter of law and order which is a state subject.
"He was given security during previous trips as we had no time to write to the state police concerned and also because they were short visits. This is a long visit and we cannot keep any component with him for that long," the officer said.
A Delhi government source said: "In the past, the Delhi Police provided a security personnel to Kejriwal outside Delhi. But now, a letter from DCP (security) has informed that he cannot be given security during his Punjab visit."
The Chief Ministers Office had earlier written to the Delhi Police, requesting security for his Punjab visit starting tomorrow.