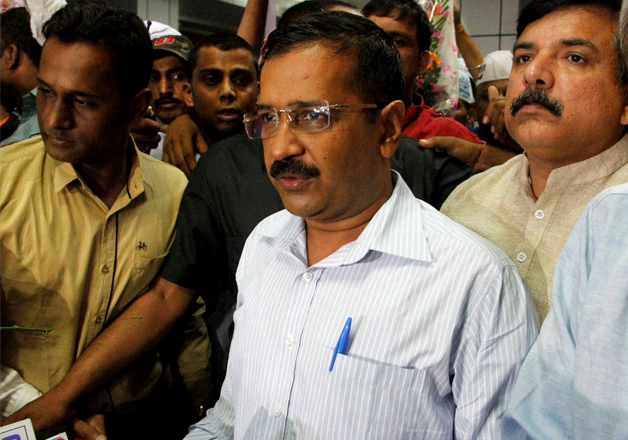 Delhi Chief Minister Arvind Kejriwal on Friday late night arrived here to a tumultuous welcome -- and noisy protests -- and alleged that BJP president Amit Shah was trying to scuttle his Surat rally on Sunday.
Speaking to reporters outside the Sardar Vallabhbhai Patel Airport here where both pro- and anti-Kejriwal crowds had gathered, he expressed hope that the BJP will not disrupt the rally as the aim is to highlight issues of common people.
"We have come to know that Amit Shah and the BJP are trying to disrupt our rally in Surat. But this is not my rally. This is a rally of the people of Gujarat. So I hope that Amit Shah and the BJP won't disrupt it," he said.
Amid the sloganeering and jostling, the police provided security as Kejriwal addressed the reporters and left the airport with party colleague Sanjay Singh and other AAP leaders of Gujarat accompanying him.
A huge crowd of AAP supporters, including women, held placards welcoming Kejriwal on his four-day trip to Gujarat. Some tried to present him bouquets. There were also anti-Kejriwal slogans.
The AAP is said to be getting the backing of the Patidar Anamat Andolan Samiti led by 23-year-old Hardik Patel. Surat has a significant presence of the Patel community.
Hardik Patel has been ordered by a court to remain out of Gujarat for six months after being granted bail in sedition cases in July.
Meanwhile, posters have emerged at several places in the state equating Kejriwal with terrorists like Osama bin Laden, Hafiz Saeed and Burhan Wani.
The posters were noticed at prominent places in and around Unjha and Mehsana towns of north Gujarat where Kejriwal is scheduled to meet family members of those killed during the Patidar agitation.
The Gujarat government first delayed giving permission to Kejriwal to hold a rally on Sunday. The Gujarat High Court finally gave the green signals.
Blaming the ruling BJP for the poster campaign, AAP's Gujarat convenor Gulab Singh Yadav said: "It's their handiwork.
"The miscreants who earlier targeted our bike rally on October 9 turned out to be associates of Amit Shah. And now this. It clearly shows that the BJP is rattled," Gulab Singh said.
Earlier, Delhi Police obtained a non-bailable warrant against Gulab Singh, provoking Kejriwal to ask on twitter if the Delhi legislator would be arrested ahead of the Sunday rally.
Gulab Singh has been camping in Gujarat for months, building up the AAP in the state which goes to the polls next year.
With IANS Inputs