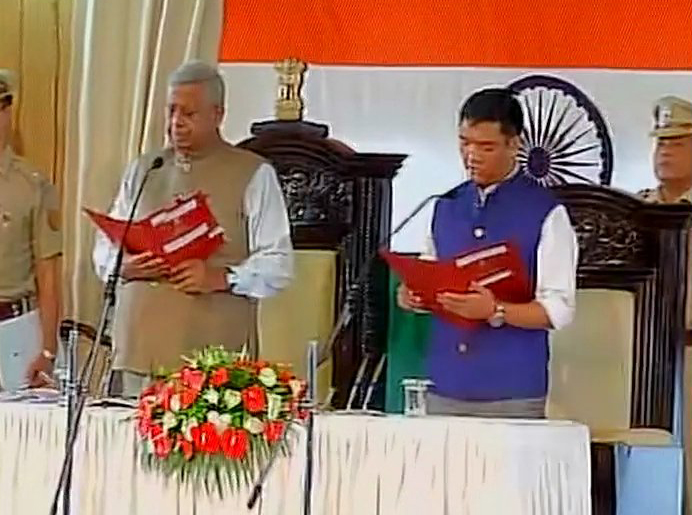 Itanagar: 37-year old Hindu College graduate Pema Khandu took oath as Arunachal Pradesh Chief Minister today to become third youngest CM of the state. His elevation to the top post came after months of drama which ended in rebel Congress MLAs joining ranks with the party to select him as Legislature Party Leader yesterday. 
Prem Khandu Thungan, known as P K Thungan, became Arunachal's first Chief Minister in 1978 at the age of 29. Gegong Apang became CM of the state in 1980 at the age of 31. 
"We will try to fulfil our responsibilities. We will focus on starting new projects and take forward stalled projects for development of state," Khandu said after taking oath. 
Along with Khandu, Chowna Mein took oath as his deputy in the cabinet. 
Khandu was one of the Congress MLAs who were against Nabam Tuki leading the government in North-eastern state. He was among the 35 MLAs paraded in Guwahati on Thursday by rebel Congress leader Kalikho Pul, who swore in as the CM in February with the help from BJP legislators.
Pema Khandu, son of late chief minister Dorjee Khandu, was unanimously elected leader at a meeting of Congress Legislature Party, which was attended by 44 MLAs, including rebel Khaliko Pul. Khandu rushed to Raj Bhavan along with supporting MLAs to stake claim to form new government. 
The Assembly now has an effective strength of 58 in which BJP has 11 and Independents 2. With Speaker Nabam Rebia and the return of dissidents, the Congress strength has gone up to 45. 
In case a floor test takes place, the Congress is tipped to win the trial of strength. 
Ahead of the CLP meeting, Tuki met the Governor and told him of his intention to resign as CLP chief and as chief minister and of the Congress party's decision to elect a new leader. 
He told reporters in the presence of Khandu that in view of these developments he told the Governor that he would not be taking a floor test. 
Khandu also told the media that he has staked claim to power with the Governor on the basis of support of 47 MLAs, including two independents, and that he should be sworn in. 
37-year-old Pema, a former minister of Tourism and Water Resources, is an MLA from Mukto (ST) constituency. A graduate from Hindu College, Delhi, Pema became a Secretary of the Arunachal Pradesh Congress Committee in 2005 and the president of the District Congress Committee in Tawang in 2010.
Governor Tathagata Roy had directed Tuki, who was restored to the post on Thursday by a historic verdict of the Supreme Court, to face a trial of strength in the Assembly on Saturday. 
He had on Friday rejected Tuki's request for postponing the floor test by at least 10 days. 
Khaliko Pul, who was unseated by the apex court verdict, had commanded the support of 30 MLAs of People's Party of Arunachal Pradesh, which they had joined in December last after they revolted against Congress.