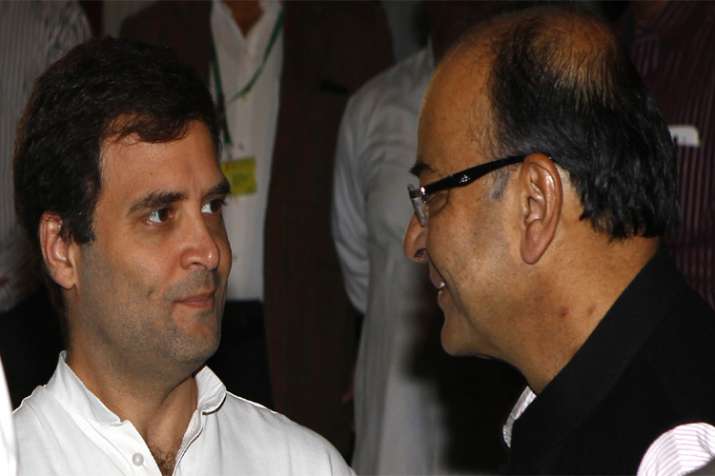 Union Minister Arun Jaitley on Tuesday tore into Congress vice president Rahul Gandhi's recent 'Gabbar Singh Tax' jibe at the Goods and Services Tax (GST) implemented by the Centre, saying people who are used to scams would definitely have issues with a legitimate tax. 
"People, who are used to 2G, coal block scam, will have an issue with a legitimate tax," Jaitley said while addressing the media in New Delhi. 
Rahul Gandhi had, yesterday, termed GST as 'Gabbar Singh Tax' while addressing a rally atv the 'Navsarjan Janadesh Mahasammelan' in Gujarat's Gandhinagar.
Rahul said that the UPA government wanted to implement the Goods and Services Tax, but the Modi government has imposed the Gabbar Singh Tax.
Asked about his view on the Opposition celebrating Novemeber 8 – the day last year when Prime Minister Narendra Modi announced the demonetisation drive – as 'Black Day', Jaitley said, "Opposition's devotion towards cash economy will be on display when they observe November 8 as 'Black Day'". 
Meanwhile, in his address, Jaitley said that India has remained as the world's fastest growing economy for the past three years, thus maintaining very strong economic fundamentals with progressive growth story.
"There are strong macroeconomic fundamentals. We will report on the situation as they develop. A lot of internal meetings on the state of economy internally within the ministry were held. Discussions were also held with the prime minister. But India has remained one of the fastest growing economies in the world," he said.