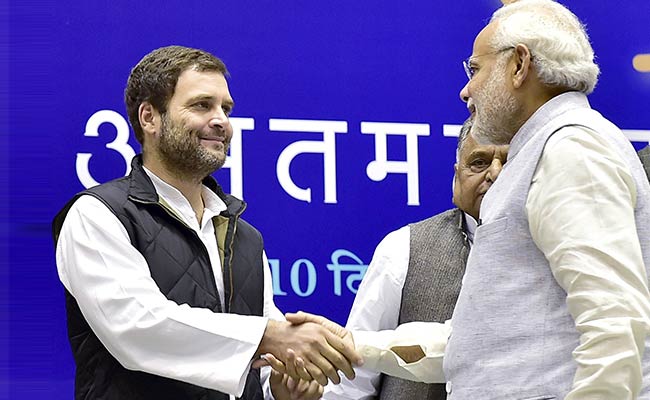 Rahul Gandhi on Thursday cracked up social networking sites after his jibe at Prime Minister Narendra Modi with a new slogan- Arhar Modi- in a reference to rising daal prices in the country.  
Calling him 'arhar Modi, arhar Modi", Rahul Gandhi today took swipes at Prime Minister Narendra Modi in the Lok Sabha and tore into his election promise of bringing down prices.
He also needled Modi on his election slogan asking people to make him a "chowkhidar" (watchman) and not PM and said under his nose but there was "theft" of pulses and he was not speaking a word on it.
In a speech that lasted just a little over 15 minutes, Gandhi asked the prime minister to give a datee by which the prices of pulses will come down.
Taking a jibe at the BJP slogan 'Har Har Modi' used during the Lok Sabha polls, he said "now people are saying 'Arhar Modi'."
Soon after his speech in Lok Sabha, #ArharModi started trending on Twitter. The hashtag was one of the top trends today.
Here is how Twitteratis reacted to Rahul Gandhi's speech:
#ArharModi - Pulses production down by 50%. Imports may zoom to 10 million tonnes! pic.twitter.com/Ihl7zWf16j

— Srivatsa (@srivatsayb) July 28, 2016
BJP and #ArharModi are like if you eat non-veg, we'll kill you and we'll increase the price of veg so high, you won't be able to eat them 😂😜

— Shaan Haider (@shaanhaider) July 28, 2016
Daal to beta kuch dinno main sunnar ki dukaan pe milegi. #ArharModi pic.twitter.com/b2vqsetoKF

— RATNEESH NIJJAR (@DNTSPY) July 28, 2016
Did #RahulGandhi touch th 'pulse' of th nation by talking of #ArharModi? Though I personally think 'suit boot ki sarkaar ' had more punch

— sucherita kukreti (@sucherita_k) July 28, 2016
Why Nation Choose A Joker Over an Economist?
I am Thankful to my 31% blind Voters!@RoflGandhi1 #ArharModi pic.twitter.com/QErHcyRm5H

— Sanwar Ali (@Adhivakta_) July 28, 2016
BJPigs protested wen dal went from Rs 42 to Rs 60. Today price of same dal has gone from Rs 60 to Rs 200:~#ArharModi pic.twitter.com/uPTUiUJNEk

— ║█║▌║█║▌│║▌║▌║█™ (@Myth_Busterz) July 28, 2016
This afternoon I listened to the speech of Rahul Gandhi. I must say he is a great stress buster! Somehow his very sight sets me laughing.

— MRV (@MRVChennai) July 28, 2016
RahulGandhi speaks of people's predicament to spellbound audience in Parliament. Frm #SuitBoot to #ArharModi it's RG pic.twitter.com/GOL36uggrB

— Bhupender Gupta (@buneesha) July 28, 2016
RahulGandhi ji's words in LokSabha echoes the pain of common man of the country, compelled to battle inflation, price rise #ArharModi

— Chetan Wanchoo (@chetaan85) July 28, 2016
#RahulGandhi shouting on price rise a bit too late
Vegetable prices have crashed over last 2 weeks
Pulses to follow over next few months

— sandip sabharwal (@sandipsabharwal) July 28, 2016
#ArharModi s frnds Adani have started making billions profiting frm common mans arhar daal

While d media hides d 200 lakh cr #DaalScam

— Vinay Kumar Dokania (@VinayDokania) July 28, 2016
Market determines the price of Dal.Ok @arunjaitley ji but Government determines the price to be bought from farmers.#ArharModi

— Maanmohan Singh Pahujaa (@msgpahujaa) July 28, 2016
From Har-Har Modi to #ArharModi in 2 years.. Development BJP style.

— Dr. Ashok Choudhary (@AshokChoudhaary) July 28, 2016