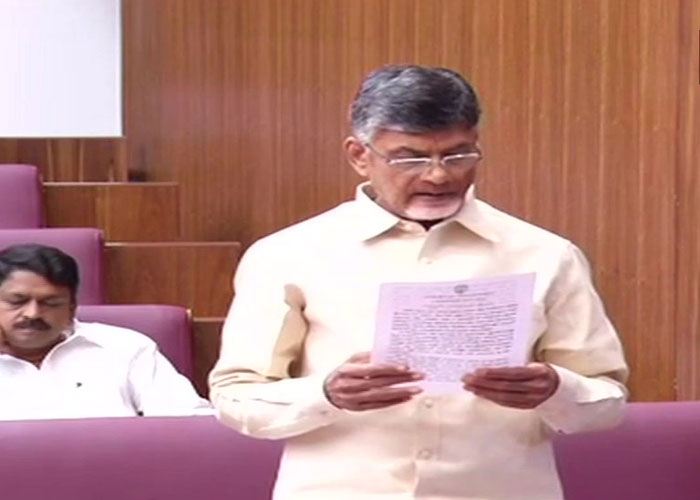 Days after Chandrababu Naidu's Telugu Desam Party's ministers quit the central government, the party on Friday pulled out of the National Democratic Alliance (NDA) in protest against its refusal to grant special category status to Andhra Pradesh.
The decision regarding this was taken by the TDP politburo during a tele-conference with party supremo and Andhra Pradesh Chief Minister N Chandrababu Naidu. Though, the party's politburo meeting to decide over quitting the NDA was planned for Friday evening, but the formality was completed during the morning tele-conference.
Highlights:
02:11 pm: We've quit NDA. I took the decision not for selfish reasons, but for interests of Andhra Pradesh. For 4 years I made all efforts, went to Delhi 29 times, asked many times. This was Centre's last budget and there was no mention of AP, we had to pull our ministers out of cabinet: AP CM Chandrababu Naidu in Assembly
02:04 pm: There were issues after the division of Andhra Pradesh. If there were issues all these years, then why weren't they raised? This shows merely an opportunistic nature: D Jayakumar, AIADMK MLA and Tamil Nadu Minister on TDP's withdrawal from NDA 
#Telangana Rashtra Samithi (TRS) MPs storm the well of #LokSabha over their demands, following which speaker adjourned the House till Monday. pic.twitter.com/Gp6OIhuCHh

— ANI (@ANI) March 16, 2018
12:10 pm: Speaker adjourns Lok Sabha for the day without taking up no-confidence motion, as opposition protests continue.
11:25 am: TDP leader Thota Narasimham moved a no-confidence motion in the Lok Sabha today.
11:15 am: "We go according to principles. Our leader felt being part of NDA and moving a no-confidence motion would not be ethical. So we withdrew from the NDA and I have issued a letter on no-confidence motion to the speaker at 9.30 am," Narasimham, the TDP's floor leader in the Lok Sabha said.
11:12 am: He said letters would go out to BJP leaders about the party's decision to exit the alliance. 
11:02 am: West Bengal Chief Minister Mamata Banerjee welcomed the TDP's decision to quit the NDA and urged all opposition parties to work closely together against "atrocities, economic calamities and political instability". 
10:54 am: We have been supporting special category status for Andhra Pradesh since the beginning. We want that people of AP to get justice. When no-confidence motion is moved you have to talk about government's failures, we contacting a lot of people, says Congress' Mallikarjun Kharge
10:24 am: TDP leaders CM Ramesh, Thota Narsimhan, Ravindra Babu and others address the media in Delhi after exiting NDA, say, 'BJP means 'Break Janta Promise'.
Will see what happens in Parl, which party chooses to go which way. In a way it is election year & every state has demands & issues, it is not right for us to comment on it. It is a custom, before actual elections there is always a rehearsal in Parl: MA Naqvi on BJP-TDP break-up pic.twitter.com/OZSVLLfh9X

— ANI (@ANI) March 16, 2018
10:21 am: It is unfortunate. We tried our best to be together but the present government ignored the sentiments and emotions of people of Andhra Pradesh, Emergency politburo was conducted in which TDP president N Chandrababu Naidu took decision to withdraw from NDA: TDP's YS Chowdary
CPI(M) supports no-confidence motion being brought against BJP govt. Its betrayal of the promise of special status for Andhra Pradesh is inexcusable. Its all-round failure & evasion of parliamentary accountability needs to be highlighted, tweets CPI(M)'s Sitaram Yechury(File Pic) pic.twitter.com/HRCxsvffcs

— ANI (@ANI) March 16, 2018
10:05 am: TDP withdrew support from NDA, which did injustice to AP, TDP President Chandrababu Naidu took this decision in an emergency teleconference with party politburo members and MPs, which was unanimously supported. TDP to also introduce no-confidence motion against NDA govt: AP CMO 
09:50 am: BJP has cheated Telugu people, this time also they have succeeded in doing so, we will be moving a no-confidence motion, says Andhra Pradesh minister KS Jawahar.
Our party will be moving no-confidence motion today (in Parliament). We have decided... we are out of the NDA: Thota Narsimhan, TDP MP pic.twitter.com/73StNsOjtF

— ANI (@ANI) March 16, 2018
09:40 am: As per an official communique, the party will also move a no-confidence motion against the Modi government over the injustice meted out to the state.
09:32 am: As per reports, the party is also likely to back Jaganmohan Reddy's no-trust motion against the Modi government.
09:30 am: Speaking on the floor of the Andhra Pradesh Assembly in Amravati, TDP president Naidu had said that his party may extend support to the no-confidence motion against Modi government.
09:29 am: "If necessary, we will support the no-confidence motion against Centre, whoever may place it," Naidu said. 
09:28 am: TDP's two Central ministers Ashok Gajapathi Raju and YS Chowdary had resigned on March 8 amid the growing strain in ties between the party and the BJP over alleged neglect of the state in the Union Budget.