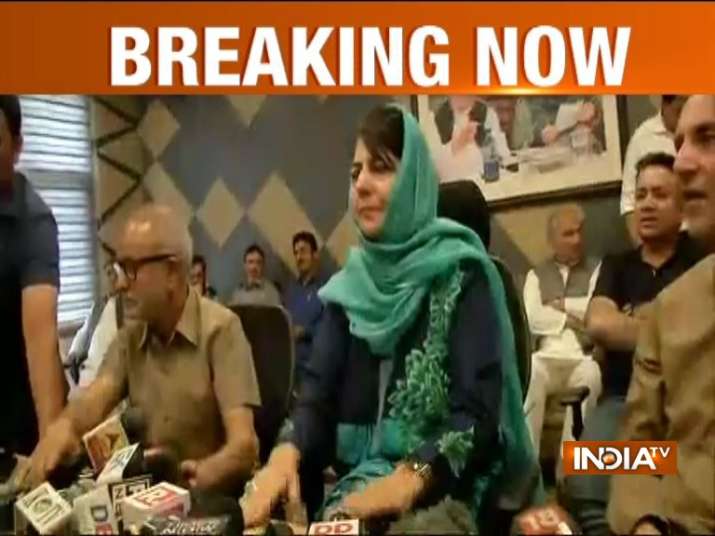 The imposition of Governor's rule in Jammu and Kashmir looks certain after the three-year-old state government collapsed on Tuesday with the BJP pulling out of its alliance with the PDP. 
BJP general secretary Ram Madhav made the surprise announcement after the party high command summoned its Jammu and Kashmir ministers for emergency consultations in New Delhi. A few hours later, Chief Minister Mehbooba Mufti submitted her resignation to Governor N N Vohra in Srinagar. 
Today's announcement comes barely two days after the Home Ministry had said that it would not extend the suspension of operations against terrorists in the state. 
Later on, Home Minister Rajnath Singh held a high-level meeting at his residence with Home Secretary Rajiv Gauba, and senior officials of the Intelligence Bureau and his ministry to assess the ground situation in the sensitive state. 
Jammu and Kashmir has come under the Governor's rule on seven occasions before in the past four decades. 
In case the scenario for the imposition of the Governor's rule emerges for the eighth time, as the prospects of formation of a new government appears unlikely, it will be for the fourth time that the Jammu and Kashmir will be placed under the central rule during N N Vohra's tenure as the Governor. 
Vohra, a former civil servant, became the Governor on June 25, 2008. 
As It Happened:
08:24 pm: Guv NN Vohra recommends imposition of Governor's rule in the state
07:13 pm: Omar takes a jibe at Mehbooba, questions her opposition to the muscular policy for Kashmir
What's with this "new muscular policy for Kashmir" discourse that's sought to be created? Was what Mehbooba Mufti oversaw as CM any less muscular? She was unapologetic for all the pain & suffering in 2016 and after.

— Omar Abdullah (@OmarAbdullah) June 19, 2018
6:45 pm: BJP-PDP alliance cost India strategically and destroyed years of UPA's hard  work, says Rahul Gandhi
The opportunistic BJP-PDP alliance set fire to J&K, killing many innocent people including our brave soldiers. It cost India strategically & destroyed years of UPA's hard work. The damage will continue under President's rule. Incompetence, arrogance & hatred always fails.

— Rahul Gandhi (@RahulGandhi) June 19, 2018
6:41 pm: 6 DSPs of Jammu and Kashmir Police transferred
06:35 pm: Local leadership, Deputy CM (of J&K) & state ministers were taken into confidence, in the interest of the country & J&K BJP took this step & BJP will continue to do whatever is necessary for benefit of the state: UP CM Yogi Adityanath
05:31 pm: The meeting was attended by NSA Ajit Doval, Home SDecretary Rajiv Gauba and other senior officials.
05:30 pm: The high-level meeting to discuss situation in Jammu and Kashmir, held at Home Minister Rajnath Singh's residence, over.
05:10 pm: We have told Governor that we'll not form alliance with any other party in the state
05:08 pm: We didn't join hands with BJP for grabbing power, We'll continue with our agenda for bringing peace to Jammu and Kashmir.
05:07 pm: I submitted my resignation (as J&K CM) to the Governor & told him that we are not looking to explore any other alliance: Mehbooba
05:06 pm: I am not shocked. We didn't form this alliance for power. This alliance had a bigger motive- unilateral ceasefire, PM's visit to Pakistan, withdrawal of cases against 11,000 youth: Mehbooba Mufti
05:05 pm: We tried our best to restart the dialogue and reconciliation process: Mehbooba
​05:04 pm: We got unilateral ceasefire implemented during Ramzan, We got an offer for dialogue delivered from MHA: Mehbooba
05:03 pm: We protected Article 370 in Jammu and Kashmir: Mehbooba
05:04 pm: ​We had always said muscular security policy will not work in J-K, reconciliation is key: Mehbooba
05:02 pm: There is no place for muscular policy in Jammu and Kashmir. We got unilateral ceasefire implemented: Mehbooba.
05:01 pm: We had joined hands to restart the reconciliation process: Mehbooba
05:00 pm: We joined hands with BJP keeping in mind the massive mandate that PM Modi had received in 2014 LS polls: Mehbooba
​Watch: Muscular policy can not work in J&K, says Mehbooba Mufti
04:58 pm: Mehbooba Mufti arrives for addressing media persons.
04:25 pm: Mehbooba Mufti should have resigned earlier with dignity intact. Fresh polls must be conducted as soon as possible: Omar Abdullah
04:22 pm: We demand imposition of Governor rule in the state which should be followed by early elections: Omar
04:21 pm: I have told Governor that since no party has the mandate to form the government, he will have to impose Governor rule in the state: Omar Abdullah
04:20 pm: We don't want to form govt in the state: Omar
04:18 pm: Have just returned after meeting the Governor: Omar
04:16 pm: Omar Abdullah's press conference begins. 
04:00 pm: J-K BJP president Ravindra Raina demands imposition of President's rule in Jammu and Kashmir.
3:42 pm: Omar Abdullah to address press conference shortly.
3:40 pm: Omar Abdullah meets Jammu and Kashmir Governor at Raj Bhawan.
3:30 pm: Political future of PDP over. Situation will further deteriorate in Jammu and Kashmir: Asaduddin Owaisi
3:23 pm: National Conference (NC) begins its meeting in Srinagar. Former Chief Minister Omar Abdullah present in the meeting.
3:20 pm: We can only put our heads together and discuss the emerging situation in the party meeting at 4 pm: PDP Spokesperson Rafi Ahmad Mir
3:15 pm: Ghulam Nabi Azad talks to Omar Abdullah over phone and discusses situation in Jammu and Kashmir.
3:14 pm: Whatever has happened is good. People of J&K will get some relief. They (BJP) ruined Kashmir and have now pulled out, maximum number of civilian and army men died during these 3 years. That question of forming alliance with PDP doesn't arise: Ghulam Nabi Azad
3:12 pm: We will talk in detail at 5pm: PDP leader Naeem Akhtar
03:08 pm: PDP chief Mehbooba Mufti to address a press conference at 5 pm today.
03:06 pm: BJP built up its party through propaganda against Kashmir and now after 70 years they wanted to rule the region: Ghulam Nabi Azad, Congress
03:03 pm: CM Mehbooba Mufti submits resignation to Governor
03:02 pm: On future action, PDP says we will put our heads together at 4 o'clock meeting at CM house and decide the next step
03:00 pm: We tried our best to run the govt with BJP. This had to happen. This is a surprise for us because we did not have any indication about their decision: Rafi Ahmad Mir, PDP Spokesperson on BJP pulling out of an alliance with PDP
02:58 pm: Congress refuses to support Mehboob Mufti's PDP to form an alliance government in Jammu and Kashmir
02:55 pm: BJP has a habit of such behaviour. The result of this withdrawal will be officer's rule, security forces rule. CPIM has always tried to promote confidence building measures, this will not help: CPIM leader
02:50 pm: "An opportunistic BJP , First an opportunistic alliance with PDP, Now an opportunistic breakaway, Both acts of political immorality, Kaise Desh badlega ?," Congress leader Kapil Sibal tweeted.
02:47 pm: Shiv Sena attacks BJP for ending the 'unholy alliance' so late. The party, in a press conference said that we have been saying that BJP-PDP alliance was an unholy and unpatriotic one and it should have been ended much sooner. 
02:45 pm: This alliance was anti-national and unnatural. Our party chief had said, this alliance won't work out. Had they continued with it they would have had to answer in 2019 Lok Sabha election: Sanjay Raut, Shiv Sena on BJP calling off their alliance with PDP in Jammu and Kashmir
02:44 pm: The Jammu and Kashmir government was formed after four-months of hectic parleys as ideologies of PDP and BJP did not align traditionally.
02:40 pm: Jammu and Kashmir Assembly elections in 2014 had thrown a fractured mandate. Out of 89 seats, PDP had gained 28, BJP had won 25, outgoing NC had managed just 15 while Congress had 14. Five seats had gone to others. 
02:32 pm: Even if Governor rule is imposed in the Jammu & Kashmir, our efforts to fight terrorism will continue: Ram Madhav, BJP
​02:32 pm: We had to respect the mandate of the people. If we would not have formed govt at that time, Governor's rule or Presidential rule would have been imposed in the Valley. We had an alliance with them just for the mandate that was given by people: Ram Madhav, BJP
02:32 pm: Centre did everything for the Valley. We've tried to put a full-stop to the ceasefire violations by Pak. PDP has not been successful in fulfilling its promises. Our leaders have been facing a lot of difficulties from PDP in developmental works in Jammu & Ladakh: Ram Madhav, BJP
02:32 pm: Keeping in mind larger interest of India's security and integrity, fact is that J&K is an integral part of India, in order to bring control over the situation prevailing in the state we have decided  that the reigns of power in the state be handed over to the Governor: Ram Madhav
02:30 pm: Terrorism, violence and radicalisation have risen and fundamental rights of the citizens are under danger in the Valley. Shujaat Bukhari's killing is an example: Ram Madhav, BJP
​02:27 pm: Main Opposition leader in J&K Omar Abdullah reacts: 
And so it has come to pass........

— Omar Abdullah (@OmarAbdullah) June 19, 2018
02:26 pm: We have taken a decision, it is untenable for BJP to continue in alliance with PDP in Jammu & Kashmir, hence we are withdrawing: Ram Madhav, BJP
02:25 pm: BJP announces an end to the alliance with People's Democratic Party in Jammu and Kashmir. It is not tennable anymore, the BJP spokesperson said at the press conference.
02:24 pm: BJP press conference after JK BJP ministers meet with Amit Shah LIVE: Key announcement on alliance with PDP likely
11:45 am: We have compromised on issues with PDP, that compromise continues, we have a good government in J&K: Deputy CM 
11:45 am: BJP fought the elections alone last time and will do the same this year:  Kavinder Gupta
11:45 am: Deputy CM of Jammu and Kashmir Kavinder Gupta said that the meeting will include discussion on routine matters, Amarnath Yatra, security conditions in J&K and 2019 Lok Sabha poll preparations. 
11:40 am: Before the meeting, senior BJP leader Ravinder Rana told India TV that the main agenda of today's meet is to take stock of the situation in Jammu and Kashmir. J&K security scenario, organisational issues and June 23 anniversary of Shyama Prasad Mukherjee will be main topics of discussion. Will also review the work of alliance and government in the state, Rana said. 
11:40 am: Central government had taken ceasefire initiative to establish peace and brotherhood in the Valley, but Pakistani separatists and terrorists tried to violate peace in the Valley, for us country comes first, he added. 
11:40 am: We cannot give freedom to Pakistan to kill innocents and reported, we cannot stand of sidelines and watch: BJP leader Ravinder Rana
11:40 am: BJP currently has three Lok Sabha seats in jammu and Kashmir, after 2019 Lok Sabha polls BJP will win all 6: Ravinder Rana
11:12 am: The meeting between Jammu and Kashmir BJP ministers and top leaders with BJP President Amit Shah begins at Jammu and Kashmir Bhawan in Delhi