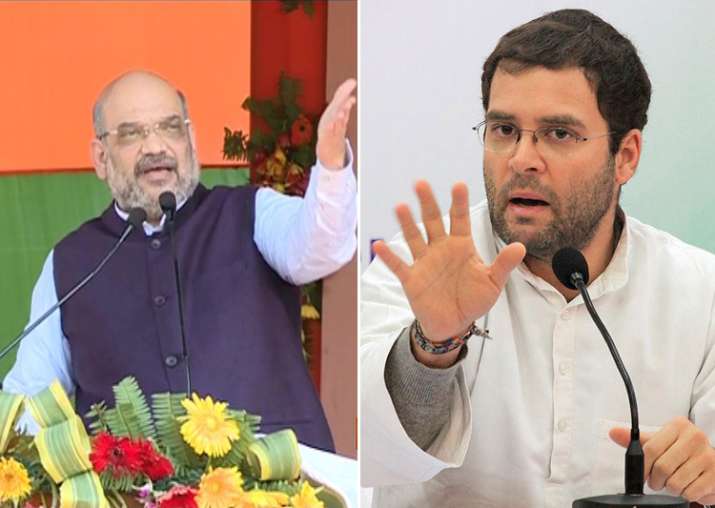 Launching a blistering attack on Rahul Gandhi in his parliamentary constituency, BJP President Amit Shah today accused the Congress vice president of ruining Amethi which is "known all over the world as a Nehru-Gandhi family bastion". 
Referring to Rahul Gandhi as 'shahzada', Amit Shah dared the Congress VP to explain to the people what the three generations of Gandhis have done for Amethi.
​"Amethi is known globally as the bastion of Nehru and Gandhi family. But, what development took place here before BJP govt came to power? I want to ask Congress 'shahzada' Rahul Gandhi what three generations of Gandhis have done for Amethi," Amit Shah said while addressing a mega rally of the BJP in Amethi that was aimed to throw an open challenge to Rahul Gandhi in a parliamentary constituency which has been swearing allegiance to the Congress for a long time.
That the mega show was aimed to position Union Minister Smriti as a 'worthy' alternative of Rahul Gandhi became obvious when Amit Shah reminded the audience how Rahul, who won from from Amethi in 2014 elections, was mostly missing from his constituency while Smriti Irani has been frequently visiting and meeting the people despite losing to the Congress VP.
Heaping praise on Prime Minister Narendra Modi, Amit Shah claimed that the BJP has finally given a PM to the country who speaks out. Slamming Rahul Gandhi for demanding  the log sheet of his work from Narendra Modi, Amit Shah reminded the Congress VP that the Prime Minister has launched 106 schemes for the development and welfare of the people of the country.
Shah also taunted the Congress VP by pointing out that if PM Modi has to electrify villages even after 79 years of independence it should be explained why Rahul's grandmother and father didn't do anything. 
Shah also asserted that the combination of Narendra Modi and Yogi Adityanath will bring development to Uttar Pradesh and transform it into a developed state.
Will not let sons and sons-in-law to grab land in UP: Yogi Adityanath
Speaking on this occasion, Uttar Pradesh Chief Minister blasted Congress party for allegedly hatching conspiracy to grab lands from farmers on behalf of Rajiv Gandhi foundation in the name of Samrat cycle. He asserted that the UP government will not allow land grabbing by sons and sons-in-law in Uttar Pradesh.
" Samrat cycle ke naam par zameen ko Rajiv Gandhi foundation ke naam par hadapne ki jo saazish ho rahi hai isko hum pora nahi hone denge," Yogi Adityanath said while adding that "We will not let sons and sons-in-law to grab land in UP."
The UP Chief Minister also accused the Congress party of encouraging "middlemen" culture in UP and added that the day this culture was abolished, the Congressmen would become jobless.
"The middlemen system was introduced by Congress. Whatever the programmes are, it should be made keeping in mind the farmers. Once middlemen system will close, it would leave Congress jobless," he said.
Praising Smriti Irani for relentlessly working for the people of Amethi, Yogi Adityanath said that his government will not leave any stone unturned in ensuring development in this area.
What Congress couldn't do in Amethi in 7 years, BJP has done in 6 months: Smriti Irani
Addressing the rally, Union Minister Smriti Irani took a jibe at Rahul Gandhi by claiming that it does not suit the Congress VP to talk about development when he could not differentiate between a relay transmission and an FM station. 
She also recalled how Rahul Gandhi refused to meet people from Pipri village saying, "there are still farmers and labourers who still say that Rahul Gandhi has not returned land which belongs to them."