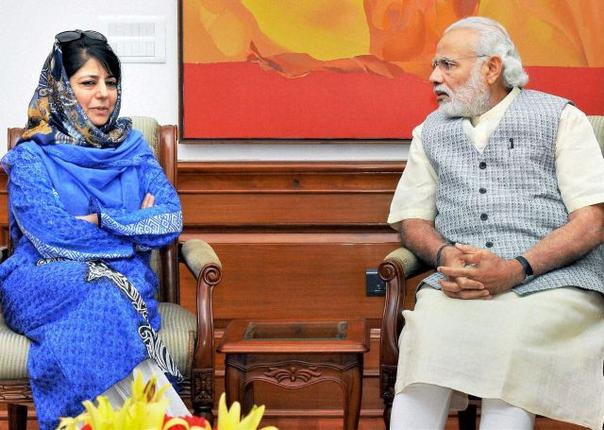 As the Kashmir Valley remained on the boil with one more civilian getting killed in firing by security forces, Chief Minister Mehbooba Mufti will fly to New Delhi for a meeting with Prime Minister Narendra Modi.
As per government sources, PM Modi will meet Mehbooba tomorrow morning at his official 7 Race Course residence.
The sources said the Chief Minister was summoned to Delhi after Home Minister Rajnath Singh's two-day visit to the valley.
They said the Home Minister had asked the Chief Minister to act tough against and round up those perpetrating a deadly civilian unrest triggered by the July 8 killing of Hizbul commander Burhan Wani.
"Rajnath Singh carried the same message and that is what Modi is expected to tell Mehbooba," one of the sources said.
The source said state and central intelligence agencies have prepared a list of around 170 ringleaders, found inciting the unrest and provoking people to take to the streets and throw stones at security forces.
Most of these ringleaders are from south Kashmir, the bastion of Mehbooba's Peoples Democratic Party.
Jammu and Kashmir Police have "not acted and the alleged troublemakers are roaming about free", the source said, adding that the Chief Minister was being pressurized to crack down on them.
As Mehbooba jetted off to Delhi, one more civilian died after security forces opened fire in south Kashmir's Pulwama district. This took the death toll in the ongoing unrest to 70.
Over 7,000 civilians and more than 4,000 security personnel have been injured during the unrest - the deadliest the valley has suffered in six years.
Police said Shakeel Ahmad Ganai, 22, was killed after he sustained bullet injuries in a clash with the security forces in Haal village.
A doctor at the sub-district hospital at Pulwama said Ganai had been hit by a bullet that pierced through his heart.
Some three dozen people were injured in other clashes across the valley after the Friday prayers.
The security restrictions were tightened on Friday amid apprehensions that separatist leaders may stoke further trouble. They had asked people to gather in Eidgah prayer grounds for a pro-freedom protest rally in the heart of the volatile old Srinagar city.
But the government thwarted the protest march to the sprawling prayer ground.
Syed Ali Shah Geelani, who heads the hardline Hurriyat Conference, was held outside his upscale Hyderpora residence as he defied restrictions and attempted to march to Eidgah.
The moderate Hurriyat chairman, Mirwaiz Umar Farooq, was also arrested near his Nigeen house. Both the separatist leaders were briefly detained at police stations near their houses.
(With IANS inputs)