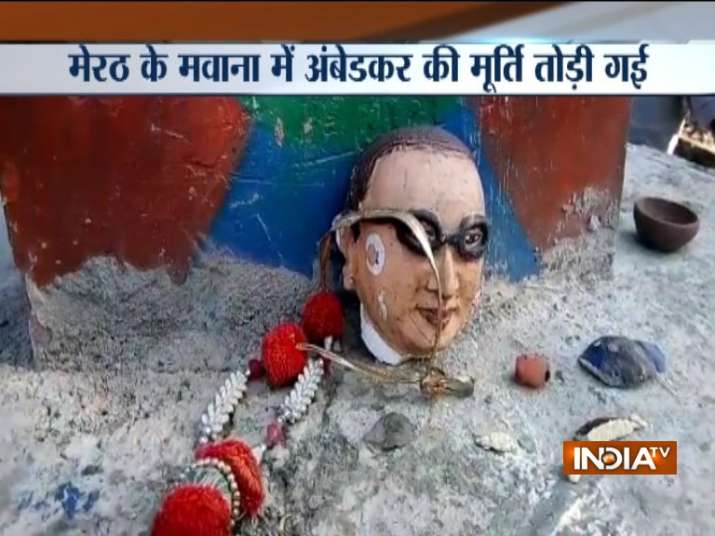 The mania of statue vandalism has reached Uttar Pradesh. After Lenin's statue in West Bengal, Periyar's statue in Tamil Nadu and Syama Prasad Mukherjee's statue in West Bengal, a new incident of statue vandalism has now been reported from UP's Mawana. 
The statue of Dalit icon BR Ambedkar was vandalised in Mawana district on Tuesday night, the police officials told media. A case has been registered against unknown people, they added. 
A new statue of Ambedkar has been installed at the same place by the local police after the incident to maintain peace and calm in the area.  
The incident is the second case of statue vandalism today and the fourth in this week. 
Also read | Syama Prasad Mukherjee's statue vandalised in Kolkata; WB govt says act not acceptable, 'will repair it'
This series of desecrating statues of famous political figures started from Tripura, where hooligans destroyed two statues of Vladmir Lenin after CPI(M) lost assembly polls to BJP on March 3. A five-foot-high fibreglass statue of Lenin was toppled at Belonia on Monday, while a smaller figure was razed at Sabroom two days ago, district superintendent of police Monchak Ipper said. CPI(M) blamed the newly-elected party and its workers for the act of vandalism. 
Yesterday, miscreants vandalised the bust of social reformer and founder of Dravidian movement EV Ramasamy "Periyar" in Tamil Nadu's Vellore district.
The incident, which the police claimed was perpetrated by two drunk men, assumed political significance as it came after a BJP leader indicated that statues of the rationalist leader could be the next to be pulled down after an iconic Lenin statue was razed by suspected BJP workers in Tripura. A senior district police officer said that two people, identified as Muthuraman and Francis, damaged the bust at Tirupattur in an inebriated state. The duo has been arrested, the police said, adding that while Muthuraman was suspected to be a BJP worker, Francis is believed to be a CPI activist. 
Also read | BJP leader regrets Facebook post after petrol bomb hurled at party office in Tamil Nadu
Earlier today, the students of Jadavpur University allegedly tried to destroy the statue of Bharatiya Jan Sangh founder Syama Prasad Mukherjee in Kolkata's Kalighat. Failing to break it down, the miscreants painted it face black. 
Prime Minister Narendra Modi has expressed his strong disapproval on such issues and spoke to Home Minister Rajnath Singh in this regard, the Ministry of Home Affairs said. 
In wake of recent incidents of violence, the Ministry of Home Affairs said it has taken serious note of such incidents of vandalism and has directed state governments to take strong action. "Incidents of the toppling of statues have been reported from certain parts of the country. MHA has taken serious notes of such incidents of vandalism. PM also spoke to Home Minister in this regard and has expressed his strong disapproval of such incidents," the Home Ministry said in an advisory to all states and Union territories.
Also read | Stop vandalism of statues, PM Modi tells MHA; states asked to curb political violence
Watch video: Ambedkar's statue vandalised in Mawana district; police install new statue soon after incident
​