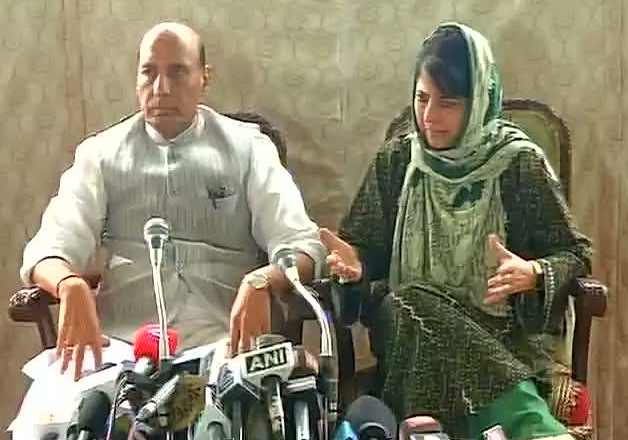 Union Home Minister Rajnath Singh, who is in Kashmir on a two-day visit, today said that an all-party delegation will soon be sent to Kashmir to hold talks on ending the unrest in the troubled state. Singh also said that the government was looking at alternatives to pellet guns and that it would be delivered soon. 
"I had meetings with more than 20 delegations here and all want peace in Kashmir. I had said before coming I will meet anyone who wants to talk. I have said it before also, youth in Kashmir should have pens, books and computers in their hands, not stones," Singh said in a joint press conference with J&K CM Mehbooba said here.
He also appealed to all Kashmiris not to play with the future of youth in the Valley. Speaking to reporters here, Rajnath stressed on the need to identify elements that were misleading the youth in the state. 
"We have to identify those elements who are trying to mislead some of our youth in Kashmir. Without the future of Kashmir, the future of India can't exist," Singh said.
"Children are children. If they pick up stones, they must be counselled. I appeal to all Kashmiris not to play with the future of youth in the Valley," he added.
When asked about the alternative to pellet guns, Singh said, "In 2010 when pellet guns were first introduced, it was considered non-lethal weapon. But now we also feel that there must be an alternative to it. I have formed a panel of experts to suggest alternatives to pellet guns, the report is expected to be tabled in two-three days."
"More than 4000 security personnel (have been) injured. I will appeal to people not to forget the role they played during floods in Kashmir. Security personnel have been asked to exercise maximum restraint. Will give alternative to pellet guns soon," the Home Minister said.
Singh, who is in the state for the second time in a month, said that the Centre will soon appoint a nodal officer to help Kashmiris in distress living anywhere in the country.
He also slammed those who are questioning the government's understanding of the situation.
"Do not question our understanding of the situation. We are trying to find solution," he said.
Chief minister Mufti said that 95 per cent people of the state don't indulge in violence and they want peace.
"95 per cent people want peaceful solution through dialogue, only five per cent derailing the process. We have to reach out to them. Our youth are used by some elements as shields to attack Army camps, they want our children to suffer," she said.
"No solution can be found by stone pelting and attacking security camps," she noted.
Singh yesterday met delegations of various political parties, including the ruling Peoples Democratic Party, the opposition National Conference and the Congress. The mainstream politicians pressed the Central government for a dialogue involving all stakeholders, including separatist leaders.
Strict curfew and restrictions remained in force in Kashmir for the 49th consecutive day as the separatists extended the protest shutdown till September 1 against the killing of Hizbul militant Burhan Wani.