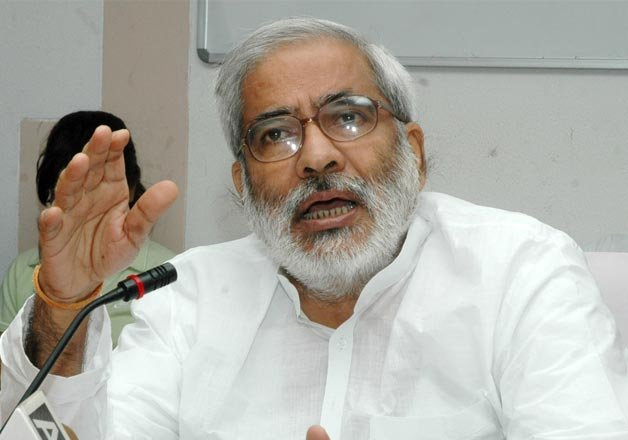 In an indication that all was not well in the ruling 'Mahagathbandhan' government in Bihar, senior RJD leader Raghuvansh Prasad Singh on Monday hit out at alliance partner JD(U) for describing Chief Minister Nitish Kumar as 'PM material'. 
"Does the JD(U), a small political party, seriously think that it has wherewithal to make Nitish Kumar the Prime Minister of the country?" he asked, though the JD(U) had not declare him as the party's prime ministerial candidate. 
Prasad, also the vice-president of RJD, said that all opposition parties should unite to take a call on the prime ministerial candidate to take on the BJP at the hustings.
"What will happen if all opposition parties, say about 20 in number, start projecting own prime ministerial nominee? It will create obstacle in unity of the secular parties and that will be beneficial to the BJP in next parliamentary polls," he said.
Singh also attacked Nitish for getting Sharad Yadav removed from the JD(U) president's post at the fag end of his term to and supplant himself in that position. 
At its national council meeting on Sunday, Nitish Kumar was formally appointed JD(U) president, pushing him for a bigger role in national politics, but was not made the party's prime ministerial candidate for 2019 general election. 
Briefing reporters about the national council meeting, JD(U) general secretary KC Tyagi had said, "Although he is PM material with secularist, non-dynastic and non-casteist credentials, being a small party, the JD(U) has never officially declared him the prime ministerial candidate for the 2019 polls."
The senior RJD leader had earlier criticised Kumar for enforcement of prohibition in Bihar in a 'draconian' manner given the stringent punishment proposed under the Bihar Prohibition and Excise Act' that came into force with effect from October 2. 
Singh was also opposed to his party's decision to make Nitish Kumar the Chief Minister following the Assembly election last year. 
With PTI Inputs