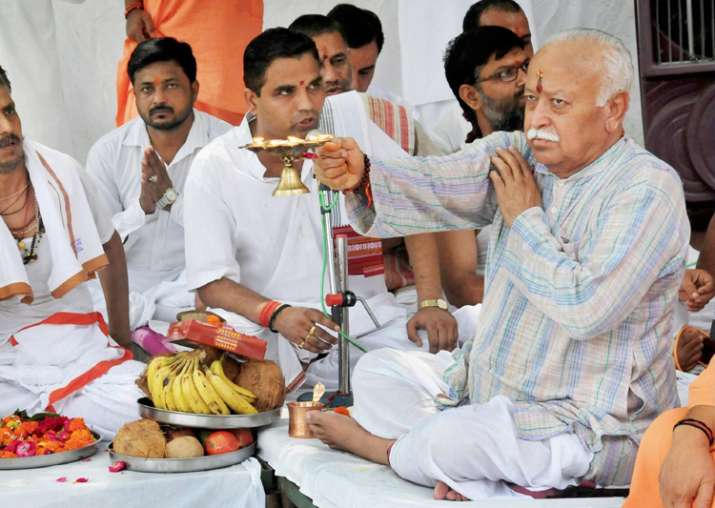 Firmly stating that all Indians are originally Hindus, Rashtriya Swayamsevak Sangh (RSS) chief Mohan Bhagwat on Monday said that the doors of Hinduism are open to all.
"We don't convert people to Hinduisim and we believe that our forefathers, no matter which community we represent today, were Hindus. The doors of Hinduism are open to all even today as we believe all of us originally are Hindus," he said while speaking at Patanjali Yogpeeth where a programme was organised by yoga guru Ramdev on Monday to mark Bhagwat's birthday.
Ramdev gifted the RSS chief a mace on his birthday and appealed to him to keep the flame of Hinduism burning. Earlier in the day, Bhagwat had visited the Suratgiri Ashram for a Ganga Arti and to seek the blessings of the saints and seers.
Uttarakhand Chief Minister Trivendra Singh Rawat also arrived at the ashram to greet him and gifted him a book and a replica of the Kedarnath shrine. Bhagwat also felicitated the parents of Captain Vikram Batra and Captain Manoj Pandey, who were killed during the 1999 Kargil war, at the ashram.
Uttarakhand Assembly Speaker Premchand Agrawal, Cabinet Minister Madan Kaushik and Ashram chief Jagadguru Vishweshwaranand Giri were among those who attended the programme.