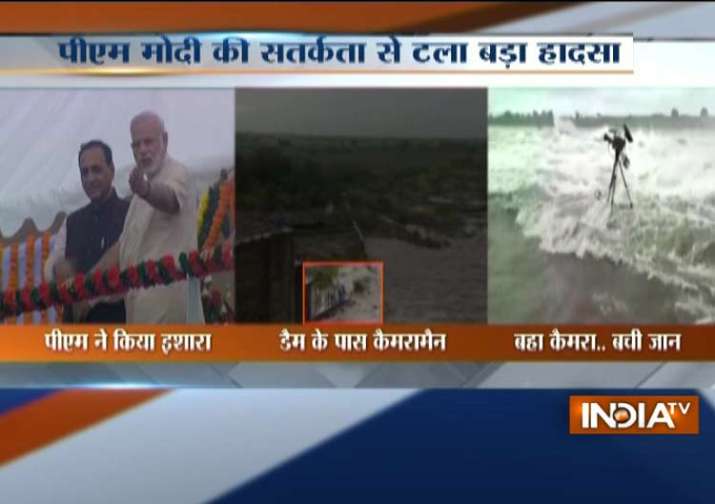 Prime Minister Narendra Modi on Tuesday saved the life of a cameraman with his alertness during the inauguration of a dam here. 
After inauguration of the ambitious SAUNI project, the Prime Minister was just looking at the flow of the water at the Aji-3 dam site after pushing a button to start the release from the dam.
He suddenly noticed that a cameraperson was standing on the downstream side. The strong flow of water released a little while ago was racing towards him and could have washed him away. 
Modi alerted the unaware cameraman, who was busy videographing the event, by clapping his hands and with other gestures.  
"If the PM had not alerted them, a big mishap could have happened," Gujarat's Deputy Chief Minister Nitin Patel said.
SAUNI project will fill 115 dams in Saurashtra with the waters of the river Narmada through a network of pipelines.
The first phase covers 10 dams in the Saurashtra region which faces an acute shortage of water for drinking and irrigation. 
Modi addressed his first public meeting in Gujarat after taking over as the Prime Minister of India and said that whatever he learnt as state Chief Minister helped him a lot in discharging his responsibilities as PM.