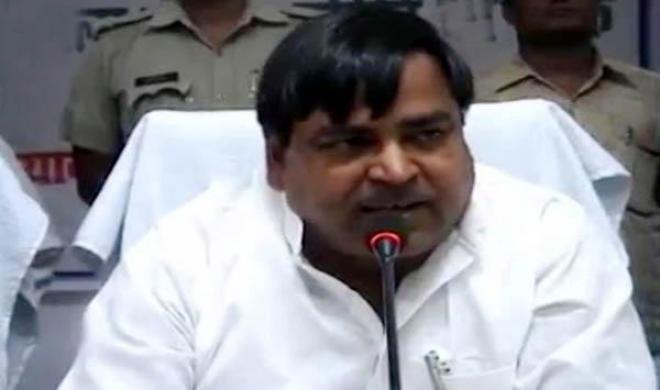 Uttar Pradesh Chief Minister Akhilesh Yadav will be campaigning for his tainted cabinet colleague Gayatri Prajapati in Amethi today.
On Saturday, UP Police, following the order of the SC, lodged an FIR against Gayatri Prajapati  and six of his accomplices in connection with cases of alleged gangrape, attempt to rape a woman and her minor daughter.
Interestingly, Akhilesh Yadav had started his campaign for UP assembly polls with Gayatri Prajapati by his side in Sultanpur, adjacent to Amethi, where the minister is the SP candidate and the sitting legislator.
PM Modi had also taken a dig at Akhilesh Yadav for launching his campaign with Gayatri Prajapati. 
"Akhilesh ji, you started your election campaign by campaigning for Gayatri Prajapati... the people of UP want to know if your SP-Congress alliance is as pure as Gayatri Prajapati, " Modi said while addressing a rally on Sunday. 
Pointing out the fact that the Supreme Court had to intervene to get an FIR registered against Prajapati, Modi said, "Rapists are given a free hand and women have to knock the doors of the Supreme Court for justice - What work have you done Akhileshji? Your minister is in a rape case. This is not 'kaam' (work) but 'kaarnama' (deed)."
Reacting to the filing of FIR against him, Gayatri Prajapati said that it was a political conspiracy at the behest of the BJP to tarnish his  image.
 He also claimed that he did not  know the woman who had made the allegations against him.
The FIR against Prajapati and others was filed in Gautampalli Police Station in Lucknow  on Sunday under various sections of the IPC and POCSO Act.
According to the complaint, the alleged incident first took place in October 2014 and continued till July 2016.
The petitioner decided to lodge a complaint after the accused tried to molest her minor daughter and her written request to the DGP in October 2016 went unheeded.
UP CM Akhilesh Yadav had sacked Prajapati from his cabinet in 2016 during the family feud with his father Mulayam Singh Yadav and uncle Shivpal Yadav. 
Prajapati, however, was later reinstated in the council of ministers.