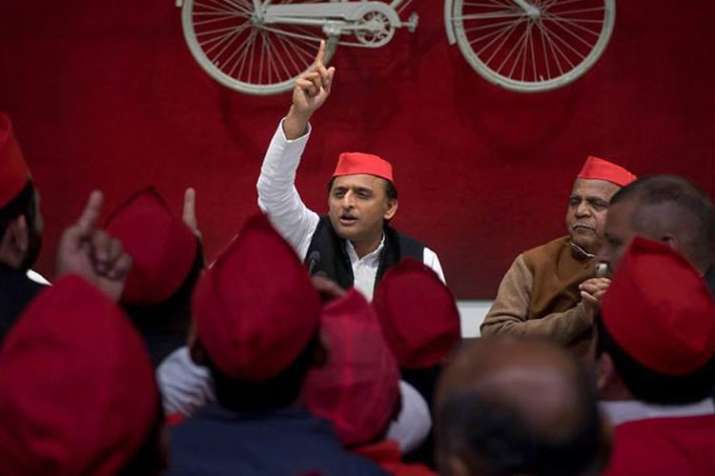 Samajwadi Party chief Akhilesh Yadav on Monday took to Twitter and blamed the media for singing government tune while the country was facing a crisis of sorts vis-a-vis Kashmir, Assam hooch tragedy and Arunachal Pradesh situation.
Akhilesh Yadav directly blamed the fourth estate for singing to Prime Minister Narendra Modi's tune. On Sunday, media reports carried how PM Modi washed the feet of five sanitary workers in Prayagraj, in a gesture which was widely hailed as "unprecedented".
Here's what Akhilesh Yadav tweeted.
कश्मीर का जलना... असम में शराब से लोगों का मरना... और अरुणाचल का सुलगना... ख़बरों को भी इसकी ख़बर नहीं...
क्योंकि वो किसी के 'पद प्रक्षालन' में चारण बन कर स्तुतिगान में व्यस्त है... अब लगता है चौथा स्तंभ हो गया ध्वस्त है.

— Akhilesh Yadav (@yadavakhilesh) February 25, 2019
In his tweet, Akhilesh blames media for heaping praise on someone who is engaged in Pad Prakshalan (Washing someone's feet in respect) and ignoring issues like the problems in Kashmir, Assam hooch tragedy where the death toll reached 123 and the violence in Arunachal Pradesh over Permanent Residency Certificate issue.
Akhilesh, however, did not specify how the media was not covering the Kashmir issue. After the attack on CRPF jawans in Pulwama on February 14, various media outlets have covered each and every action in Kashmir. In fact, the national media, as well as regional media, widely reported the Pulwama terror attack and its aftermath.
PM Narendra Modi on Sunday washed the feet of five sanitary workers and then wiped them dry to show gratitude for their service.
Meanwhile, the death toll in Assam hooch tragedy reached 123 while over 300 people were undergoing treatment in various hospitals across Dispur and Jorhat. The tragic incident took place when the workers of Salmara tea garden consumed spurious liquor.
Meanwhile, curfew continued to be imposed in various parts of Arunachal Pradesh over permanent residence certificate row. The situation took a violent turn on Sunday as protestors torched the house of Deputy Chief Minister Chowna Mein. Sensing the situation, CM Prema Khandu asked for more military help.
The national media is widely reporting the incident but Akhilesh Yadav's tweet blamed the media for being silent on the sensitive situation.
Akhilesh Yadav, in fact, went on to conclude that the fourth estate was dying. "Lagta hai choutha stambh ho gya hai dhwasht (looks like the fourth estate is dead.)"