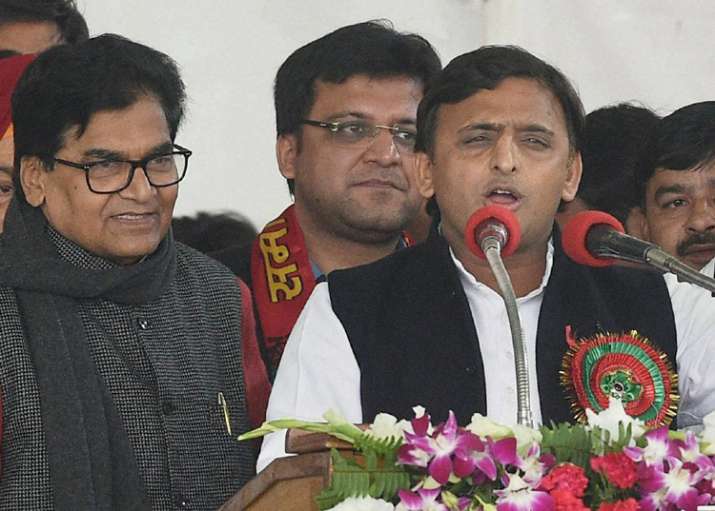 The war in Samajwadi Party was far from over today with a defiant Ram Gopal Yadav declaring Chief Minister Akhilesh Yadav as party president at the national convention here upstaging SP founder Mulayam Singh Yadav who has declared all decisions taken at the meet as "illegal". 
The convention, attended by thousands of SP workers and top leaders of the party, unanimously "expelled" Amar Singh and removed Shivpal Singh Yadav from the post of state unit president.
However, Mulayam Singh Yadav has termed as "illegal" all the decisions taken at the National Executive meeting which was called by Ram Gopal Yadav who has once again been expelled by his cousin and party founder for six years. 
Mulayam has called for a party convention at Janeshwar Mishra Park in Lucknow, the very venue where today's convention took place. 
Today's convention proposed that Mulayam be considered as supreme leader of the party and that the top brass will take guidance from him.
There was a roar of approval when Ram Gopal proposed that Akhilesh Yadav be the new "National Working President" and also declared that Shivpal Yadav would no more be the state party President.
The gathering of thousands of Samajwadi Party activists and numerous legislators supporting Akhilesh Yadav in the Samajwadi Party's internecine conflict also announced the sacking of Mulayam confidant Amar Singh.
Ram Gopal also moved a proposal to make Mulayam Singh, the founder president of the party, as party patron.
Shortly after Ramgopal Yadav's announcements, Akhilesh Yadav declared he continued to regard "Netaji" -- as Mulayam Singh is widely known -- as his father but spoke harshly against Shivpal Yadav.
Akhilesh said his respect for his father was more than ever and also made it clear that he would take action against those "who act against the party".
Shivpal Yadav, he thundered, had been working against the interests of the party.
"Those who conspired against the party, damaged it and also posed problems before the national president...Should know that my respect for the national president (Mulayam Singh) will be more than before," the chief minister said. 
"...People might raise questions and level allegations but I said this before and say it again that as his son if there is any conspiracy against the party and him it is my duty to stand against them", he said. 
"I had said that I was ready to step down as state unit president earlier too ...He had made me the CM and gave me a chance to work...", he said .
"I am ready to sacrifice everything for Samajwadi Party," Akhilesh Yadav said. And to another roar from the gathering, he thanked everyone who have stood by him in the ugly war within the state's first family.
He said he had been given the responsibility of returning the Samajwadi Party to power in the country's most populous state when it goes for fresh elections this year.
This comes a day after Mulayam revoked suspension of Ram Gopal and Chief Minister Akhilesh Yadav, signalling reconciliation in the party and the family. 
Ram Gopal Yadav and Akhilesh Yadav were both expelled for six years from the Samajwadi Party by Mulayam Singh on Friday. The decision was revoked a day later -- ahead of the Sunday convention. 
Earlier this morning as soon as the national convention got underway at the Janeshwar Misra park, Mulayam Singh issued a letter declaring the convention as unconstitutional. 
"Today a so-called convention has been convened by Ram Gopal. This is against party constitution and discipline. This has been convened to damage the party," Yadav said in the letter. 
Although Mulayam warned that participation in the convention will be taken as indiscipline and action will be initiated against those attending it, almost all the senior leaders who had been longtime associates of Mulayam shared dias with Ram Gopal and Akhilesh.
The convention also authorised Akhilesh to constitute a national executive, parliamentary board and various state units, as required, and inform the Election Commission of the developments at the earliest. The fresh developments have almost left both Mulayam and younger brother Shivpal isolated in the party.
Soon after he was made the national president, Akhilesh said, "I had stated that I was ready to step down as the state unit president earlier too, but one person brought the typewriter at Netaji's home and got the letter of my removal from the post typed."
The chief minister said, "All want that SP comes back to power but there are some who do not want this...Netaji would be most elated if the party forms the next government...I have been given the responsibility to make the next government on one more time.
"Netaji's respect and position is supreme for us...These three-four months are very important....Don't know who all can come together and force certain decisions," Akhilesh said.
In his address at the convention, Ram Gopal said that all are aware that the government was working well but two persons conspired and got Akhilesh removed from the state president's post and posed a big problem in the party. Blaming Shivpal Yadav for working in an arbitrary manner, he said that tickets were being given to those who are not even members of the party.
"The state unit president gave tickets to those who were not even member of the party...Despite directives from the national president, the state unit president revoked the suspension of those shown the door...It is clear that some people do no want SP to return to power and Akhilesh to become the chief minister again," he said.
When the problems became insurmountable the party workers gave him a request in writing to convene an emergency convention and he waited for two months before convening today's meeting, Akhilesh said.
Making a dramatic U-turn yesterday, SP revoked the expulsion of Akhilesh and Ramgopal Yadav after a massive show of strength by the chief minister who convened a meeting of SP legislators where over 200 of the 229 party MLAs turned up expressing their loyalty.
Reacting to the developments, senior SP leader and MP, Naresh Agrawal said, "When lakhs of people have chosen Akhilesh as the party president, then who has the right to remove anyone.
"Netaji is our leader, we all respect him. I would like to tell Netaji that if your son is moving forward and is making you proud, then you should shun your relations with the people who are trying to break your family and because of whom there is a feud within the party. If Netaji still doesn't pay heed to the public opinion, then it is unfortunate," he said.
Later, Naresh Agrawal and Kiranmoy Nanda, who chaired National Executive meeting as party vice-president, were expelled by Mulayam.