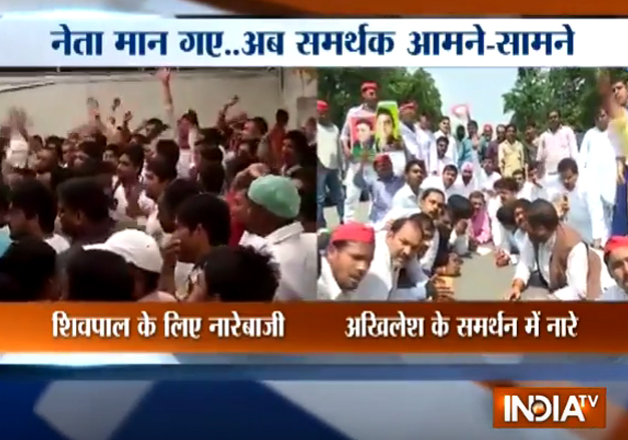 It seems that the supporters of UP Chief Minister Akhilesh Yadav have learnt a lesson or two from the supporters of his uncle Shivpal Yadav.
After Akhilesh stripped his uncle of key portfolios on Tuesday night hours after his removal as the party's state unit chief and appointment of the latter in his place, Shivpal Yadav's supporters assembled outside his residence and demanded that all the portfolios be given back to him.
Now that Akhilesh has decided to return all those portfolios to Shivpal after Mulayam Singh Yadav brokered peace between his son and brother, the UP CM's supporters want him to be reinstated as the state President of Samajwadi Party.
UP: Supporters of Akhilesh Yadav stage dharna outside Mulayam Singh Yadav's residence in Lucknow. pic.twitter.com/s4AxGEKq9P

— ANI UP (@ANINewsUP) September 17, 2016
Today, hundreds of supporters of Uttar Pradesh Chief Minister Akhilesh Yadav reached the party office demanding his reinstatement as the state president.
Donning red caps and carrying posters of the Chief Minister and his wife Dimple Yadav, the supporters started for the party office this morning, raising slogans like "Akhilesh ko adyaksh banao" (make Akhilesh the state president), saying only "Akhilesh bhaiya could lead the party".  
Akhilesh had yesterday announced that his disgruntled uncle Shivpal will be given back his portfolios and Gayatri Prajapati will be reinducted as Cabinet minister, issues which had triggered an all-out war in the party.  
UP: 'Chacha ko hatao, SP ko bachao' placards being carried by Akhilesh Yadav's supporters in Allahabad. pic.twitter.com/dtRT128lSZ

— ANI UP (@ANINewsUP) September 17, 2016
The head of four frontal organisation of Samajwadi Party-Chhatra Sabha, Lohia Vahini, Yuvjan Sabha and MSY Youth Brigade, according to sources, have also written to party supremo Mulayam Singh Yadav demanding that Akhilesh be reinstated as the state unit chief.
"We have conveyed our feelings to Netaji (Mulayam) that we (all youth frontal organisations) will not be able to work with anyone except Akhilesh. We want him back as state president. Youth is feeling dejected after his removal, they are depressed and even ready to immolate themselves in his favour," Mohd Aibad, President Mulayam Singh Yadav Youth Brigade, said.
UP: Supporters of Shivpal Singh & Akhilesh Yadav create ruckus outside Shivpal's residence in Lucknow. pic.twitter.com/9B4vKWBPC9

— ANI UP (@ANINewsUP) September 17, 2016
MLCs Rajpal Kashyap and Anand Bhadauria, who had in past held posts in SP's front organisations, also raised slogans in his favour.
"Nejati on many occasions has said the youth should lead.  We want him to bring back Akhilesh who is undisputed leader of youth and poor and has done a lot for the development of state," Kashyap said.
The supporters of Shivpal are also reaching the party headquarters here.
Akhilesh had yesterday expressed his desire to have a say in ticket distribution for 2017 polls and had termed the elections as his "pariksha".
(With PTI inputs)