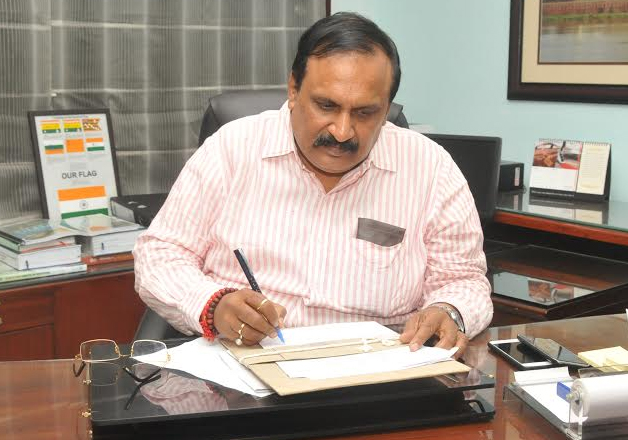 Uttar Pradesh Chief Minister Akhilesh Yadav today removed Chief Secretary Deepak Singhal and appointed Principal Secretary (Finance) Rahul Bhatnagar as the new Chief Secretary.
Considered close to minister Shivpal Yadav, Deepak was appointed to the post barely two months ago. 
"Singhal has been removed and put on wait list. Principal Secretary (Finance) Rahul Bhatnagar has been made new Chief Secretary," an official spokesman said here. 
Bhatnagar is an UP-cadre IAS officer of 1983 batch. Singhal, one year senior to him, had taken charge on July 7, replacing Alok Ranjan who had retired on June 30. 
Though no reason was given behind the development, Samajwadi Party insiders said the chief minister was perhaps not happy with him as he had attended a dinner hosted by SP Rajya Sabha member Amar Singh in Delhi which Akhilesh gave a miss. 
SP supremo Mulayam Singh Yadav and some other top party leaders were peresent at the dinner. 
The party insiders said Akhilesh was not very happy with Singhal, considered close to the chief minister's uncle and senior cabinet minister Shivpal Yadav. 
Differences of opinion between Akhilesh and Shivpal have been reported on several occasions in the past, including on the choice of official to be appointed as the state's chief secretary after Alok Ranjan's term ended, and the postponement of Qaumi Ekta Dal's merger with SP. 
Singhal was earlier Principal Secretary (Irrigation), a department held by Shivpal. 
The removal of Singhal comes hours after Principal Secretary (Mining) Gurdeep Singh was transferred to Food and Civil Supplies department replacing Sudhir Garg, who was made Principal Secretary (Mining). The CBI is probing allegations of corruption in the mining department on the direction of the Allahabad High Court. 
In an image-refurbishing exercise ahead of Assembly elections, Akhilesh had yesterday cracked the whip on two ministers -- Mining minister Gayatri Prajapati and Panchayti Raj minister Rajkishore Singh -- facing corruption charges. 
The Opposition, however, dubbed their sacking as a "poll-oriented eyewash".

(REOPENS DEL26) 
Bhatnagar told reporters his priority would be to ensure completion of ongoing projects at the earliest so that people of the state start getting benefits. 
"My focus will also be to ensure quick decision making and creating a peaceful atmosphre in the state. Efforts will be made to build confidence among people and maintain law and order so that there is no hindrance in carrying out developmental works," he said. 
Bhatnagar said he would interact with district officials on a regular basis and try to resolve their problems.