Follow us on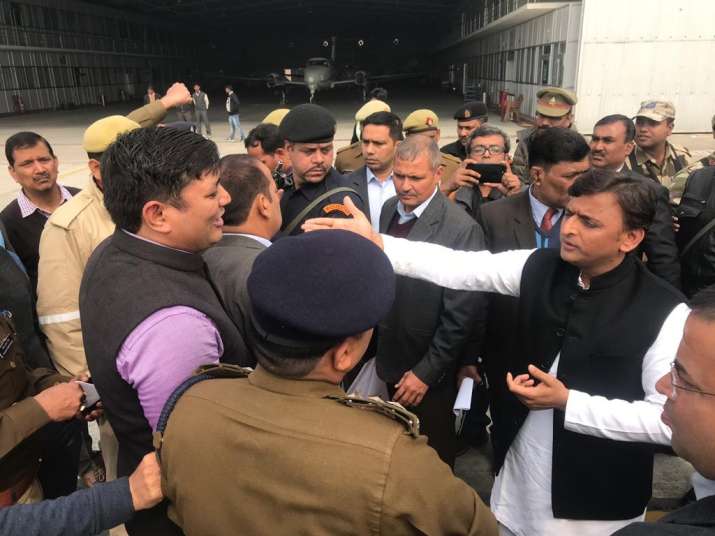 Tables have turned and democracy is under fresh threat. The anti-BJP parties once again came together in unison on Tuesday to slam the BJP government, this time in Uttar Pradesh for allegedly blocking former chief minister Akhilesh Yadav's trip to Allahabad.
'Demoracy is under threat', 'rukawat ke liye khed hai' and 'BJP is scared' were few of the statements issued by the anti-BJP allies to condemn the incident.  
Akhilesh Yadav, who claimed that he was stopped at Lucknow airport on Tuesday while on his way to Allahabad, said that stopping him shows how "scared" the government is.
"I was stopped from boarding a flight to Allahabad to attend a students' union programme. I haven't been given a reason why but it seems the general impression was that I would create a law and order problem. Chief minister has given a statement to this effect but they are using this as a cover to hide their nervousness because our youth have had enough," Yadav said.
"If there was a genuine problem, the police there would have objected, or asked for a change in my schedule. I understand the need to ensure the safety of people and property and would never do something to endanger either knowingly," he added.
First one to come out in Akhilesh's support was his newsest ally BSP supremo Mayawati, who said it was extremely condemnable and asked whether the ruling BJP was afraid of their alliance because of which it is "resorting to anti-democratic methods".
Mayawati described the episode as "an example of total dictatorship of BJP government". "This is very unfortunate and this undemocratic step will be fought at all levels," she said.
"Is the BJP government at the Centre and in Uttar Pradesh so afraid of BSP-SP alliance that it is resorting to anti-democratic methods to curb our political activities," she asked.
The SP and the BSP recently forged an alliance for the upcoming Lok Sabha elections.
Andhra Pradesh Chief Minister N Chandrababu Naidu, whose day-long fast in New Delhi saw the presence of 23 opposition leaders yesterday, 'strongly condemned the high-handed behaviour of Lucknow authorities against the Samajwadi Party leader "Another instance of BJP's intolerance against its political opponents. Really democracy is in danger," he told media. 
Also to condemn the BJP over the incident was West Bengal Chief Minister Mamata Banerjee, who was recently in controversy for not letting several BJP leaders, including UP CM Yogi Adityanath and former MP CM Shivraj Singh land in West Bengal where they were due to hold public rallies. 
"If under Yogi's rule, a former Chief Minister is not allowed to attend a college event then there is 'rukawat'. 'Rukawat ke liye khed hai'...There is such a situation in the country today that people are not allowed to go to places," she told media. 
Terming the incident a crisis for democracy, Banerjee said that the BJP did not allow Akhilesh to visit Prayagraj due to arrogance. 
"I've already spoken to @yadavakhilesh. We all condemn the arrogant attitude of the so-called #BJP leaders who didn't allow Akhilesh to address the students. Even @jigneshmevani80 was not allowed," Banerjee wrote on her Twitter handle.
"Where is the democracy in our country? And they are giving lessons to everybody!" she added.
She was refering to another incident on Monday, Mevani's college cancelled its annual day function after the institution's trustees got protest calls against the Dalit leader being the chief guest. 
SP workers go on rampage across UP
Hours after Samajwadi Party chief Akhilesh Yadav claimed that he was stopped at Lucknow airport, Samajwadi Party workers went on a rampage across the state. 
Protests broke out in Allahabad, Jaunpur, Jhansi, Kannauj, Balrampur, Jalaun and Gorakhpur, among other places, where SP supporters smashed windscreens of vehicles and clashed with the police.
SP leaders said party MP Dharmendra Yadav was injured in Allahabad in cane charge by the police.
The issue rocked both the Houses of the Uttar Pradesh legislature. 
Speaking to reporters, Adityanath said Yadav's visit could have triggered violence between rival student groups at the Allahabad University. "The Allahabad University had urged the government to stop his visit and the government acted," he said.
(With inputs from agencies)
Watch the full coverage of the news in India TV's primetime show Aaj ki Baat with Rajat Sharma: