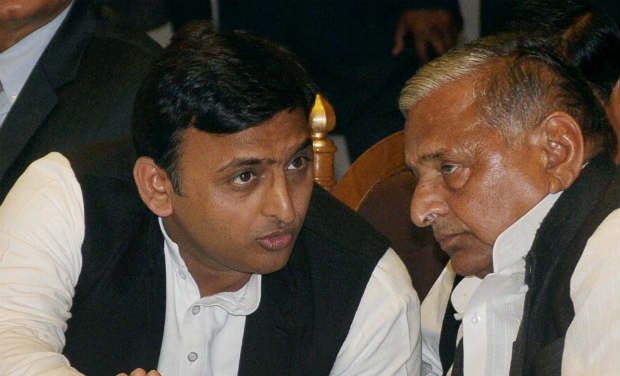 The rift between Uttar Prdaesh Chief Minister Akhilesh Yadav and his father Mulayam Singh Yadav further widened today after the UP CM shot off a letter to Samajwadi Party's national president saying he will go ahead with 'Samajwadi Vikas Rath Yatra' from November 03, 2016.
The yatra was earlier scheduled to begin from October 03, 2016. However, it was postponed in view of the Samajwadi Party's silver jubilee celebrations scheduled for November 5. 
Justifying his decision, Akhilesh Yadav pointed out in his letter that rival political parties have already started their political campaign for the 2017 UP Assembly elections but the SP had to delay it due to some reasons.
"Therefore, in order to form the next government in the crucial state, I have decided to undertake the 'Samajwadi Vikas Rath Yatra' on November 03," Akhilesh wrote in his letter.
It is still not clear whether Akhilesh would boycott the silver jubilee celebrations of Samajwadi Party scheduled to be held on November 5 in Lucknow.
Akhilesh Yadav's letter comes amid reports of senior party leaders and Yadav family members trying to broker peace between the warring father and son.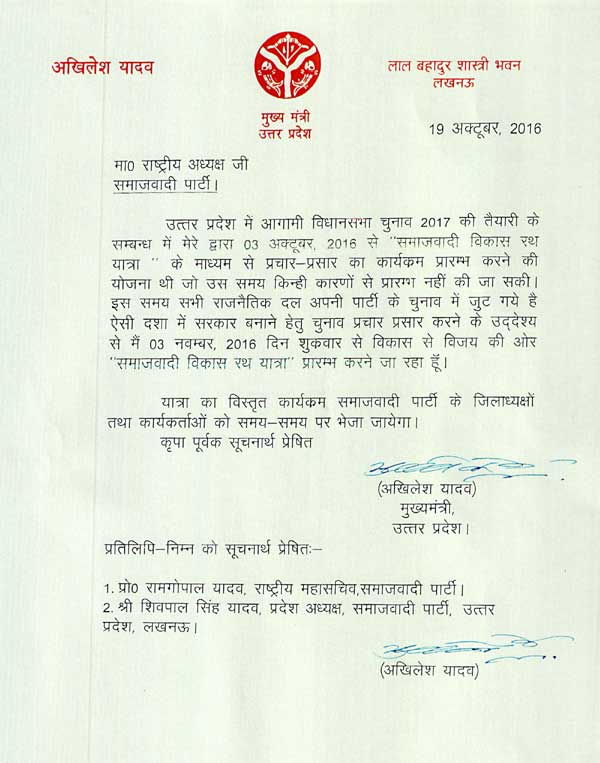 The unilateral decision by Akhilesh to launch the 'Samajwadi Vikas Rath Yatra' from November 3 will further create confusion among the party workers and political observers believe that the ongoing power struggle will hamper Samajwadi Party's prospects in the upcoming Assembly elections.
Meanwhile, a section of youth leaders, considered close to the UP Chief ministers, have said that they would boycott the silver jubilee celebrations of the party on November 5.
However, the party points out that these leaders were expelled by state party chief Shivpal Singh Yadav last month for allegedly raising slogans and protesting outside the house of Mulayam Singh Yadav.