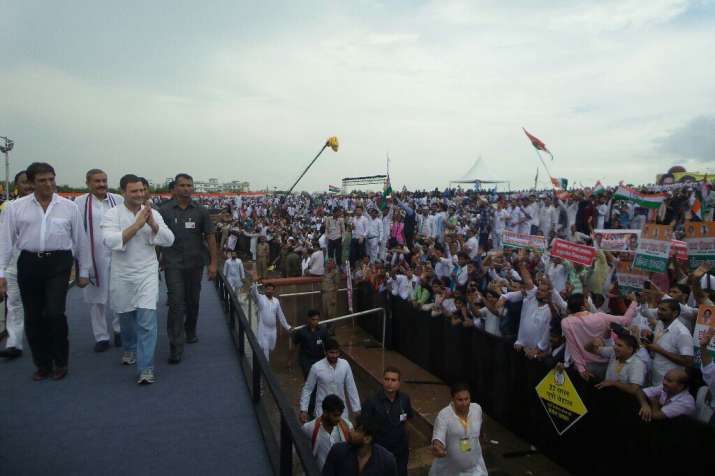 Congress vice-president Rahul Gandhi feels that Uttar Pradesh Chief Minister Akhilesh Yadav is a 'well-meaning' boy, but he couldn't deliver much during his chief ministership because of 'goondagardi' (hooliganism) in the party.
"Akhilesh theek ladka hai. Lekin jo aap chahte the, wo woh nahi kar paaya. Aisi government banaiye jo theek kaam kar paaye. (Akhilesh is a well-meaning boy but he couldn't deliver what you wanted. So elect a government which works well)," Rahul said yesterday while addressing the party workers here.
Rahul further said that the law and order situation in the state is deteriorating with each passing day and the police stations have been converted in to the offices of political parties.
He also said that only two parties are responsible for blocking the development of state.
"One is BSP, which encourages corruption and the second one is Samajwadi Party who promotes 'goondagardi' (hooliganism)," he said.
Rahul's comment on Yadav also invited sharp reaction from the ruling Samajwadi Party.
Party leader Naved Siddiqui said that the Congress leader must tender an apology and should visit UP to learn tameez (manners).
"Rahul Gandhi must tender an unconditional apology else the SP workers will take to the streets," he said, adding that "these are sings of frustration" that is creeping into the Congress party.
"He (Rahul) is the vice president of a national party but yet learn the art of speaking. He can learn from our CM Akhilesh who addresses the prime minister as Adarniya Modi ji and Congress president as Sonia ji. He should visit UP more often to learn tameez (manners). He should come to Lucknow - the city of Tameez and Tehzeeb (etiquette and manners) - and learn how people talk and respect even those whom they don't know," the SP leader said.