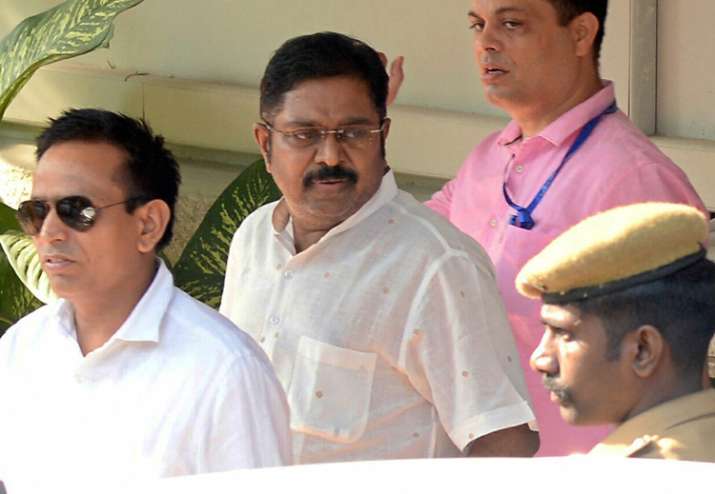 Out on bail, AIADMK-Amma general secretary TTV Dhinakaran on Tuesday met a section of Tamil Nadu's ruling party MLAs even as Chief Minister K Palaniswami-led camp asked the deputy chief to keep away from the party affairs. The meeting between the MLAs and Dhinakaran sparked speculations over the government's stability. 
However, Finance Minister D Jayakumar asserted there was absolutely "no threat" to the government and dubbed the legislators' meeting with Dhinakaran as "personal". 
The MLAs met Dhinakaran amid the stand-off between him and the Palaniswami camp, which has revolted against him and jailed party general secretary V K Sasikala and decided to keep them away from the party affairs. 
With Dhinakaran, appointed by Sasikala, going back on his earlier assurance to withdraw from party affairs, the ministers and senior party functionaries on Monday held a meeting and reiterated their opposition to him. 
Dhinakaran, however, had mocked at their meeting and questioned their authority to remove office-bearers appointed by general secretary. 
Among the legislators who called on Dhinakaran at his residence here were Thanga Tamilselvan, V P Kalairajan and former transport minister V Senthil Balaji.
Dhinakaran, who came out on bail in the EC bribery case last week, had said last week that he will continue party work, in contrast to his announcement in April after the revolt by the ministers that he would keep away from the party. 
Dhinkaran had returned to the city on June 3 after obtaining bail in the case related to alleged attempt to bribe EC officials. 
He had on Monday met Sasikala in the Bengaluru prison, where she is serving her term in the disproportionate assets case. 
'No threat to govt, meeting personal'
"There is no threat to the government and it will continue through its tenure till 2021," Jayakumar told reporters here. 
"We (Palaniswami government) are having absolute majority and that is not an issue," he said answering a question. 
He said the legislators' meeting with Dhinakaran was at a "personal level," and added "it should not be politicised... A stable regime is on and there is no connection between the government and their meeting (Dhinakaran)." 
Jayakumar said while the party was being led by a panel of seniors, the government was steered by Chief Minister K Palaniswami. 
"All are happy but some have worries, I am not going to say anything about that," he said. 
Thanga Tamilselvan, a known loyalist of Dhinakaran, said only Sasikala and Dhinakaran were authorised to decide on party matters. 
Hitting out at Jayakumar for asking Dhinakaran to stick to his assurance to "keep off" party work, he said "it is Jayakumar's personal view, it is not valid." 
Asked if action can be expected against Jayakumar for breach of party discipline, he said, "for sure, that information will come." 
Palaniswami's portrait in state ministers' chambers 
In a notable mark of assertion of authority, Palaniswami's portrait was featured in the chambers of several state ministers in addition to those of late chief minister Jayalalithaa. 
Also, new images of AIADMK founder and late chief minister M G Ramachandran could be seen in the chambers. When O Panneerselvam was chief minister, only the portraits of Jayalalithaa alone found place in the ministers' chambers. 
Legislators belonging to eight districts met Palaniswami at the state secretariat on Tuesday. 
According to Jayakumar, the meeting was about the issues in constituencies against the backdrop of commencement of Assembly session on June 14.