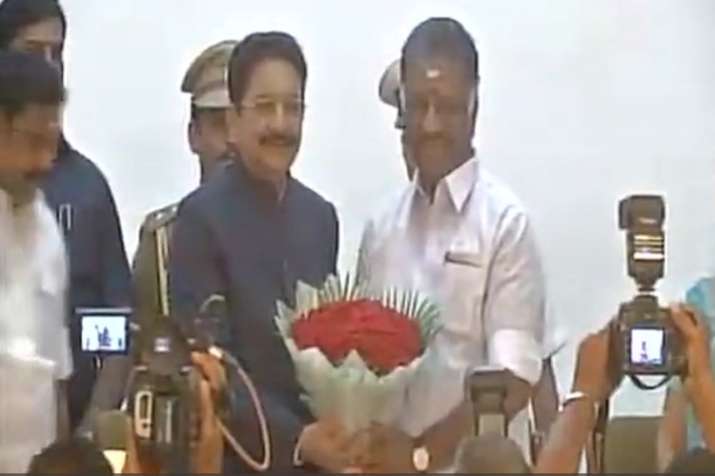 Tamil Nadu Chief Minister K. Palaniswamy and his predecessor O. Panneerselvam reached the AIADMK headquarters here on Monday, taking the most decisive step in the merger of the two factions of the party that split after J. Jayalalithaa died.
Hectic parleys preceded the arrival of the two leaders at the party office, to sort out the last-minute differences that were delaying the merger. 
Meanwhile, the faction headed by T.T.V. Dinakaran, Sasikala's nephew, has warned against his own and Sasikala's sacking as Deputy General Secretary and General Secretary of the AIADMK. Dinakaran is said to enjoy the support of a dozen MLAs.
Here are the LIVE updates of the big political turnaround:
# 
Centre assures all possible support to CM Edappadi K Palaniswami & Dy CM O Panneerselvam for the growth of Tamil Nadu, tweets PM Modi pic.twitter.com/ymzWj0qbyn

— ANI (@ANI) August 21, 2017
# 
Chennai: O Panneerselvam takes charge as deputy chief minister of Tamil Nadu pic.twitter.com/a69NubelRK

— ANI (@ANI) August 21, 2017
# Congratulate O Panneerselvam& others who took oath today. I hope Tamil Nadu scales newer heights of progress in years to come, tweets PM Modi
# It's an act of making fool of people & party cadre.Been saying that this govt is most corrupt: V Pugalendi, TTV Dinakaran & Sasikala faction
# Bad time begins for TTV Dinakaran. Whoever thinks bad for Amma's govt will be ousted: D Jayakumar
# Golden day in the history of AIADMK. All cadres and leaders are happy. No disappointment for me:  D Jayakumar
# Obstacle has been removed, two-factions of the party have been united again: V. Maitreyan
# General body meeting must be immediately convened and the secretary must be removed: KP Munusamy
# 
Chennai: O. Panneerselvam swears-in as Deputy CM at Raj bhawan pic.twitter.com/GxuFpw0Pcc

— ANI (@ANI) August 21, 2017
# We are happy with the merger but billion dollar question is why are they avoiding us?: CR Saraswathi, TTV Dinakaran-VK Sasikala faction
# 
CM E Palaniswami and O Panneerselvam pay floral tribute at MGR Memorial in Chennai. #AIADMKMerger pic.twitter.com/1mLwcHgkFP

— ANI (@ANI) August 21, 2017
# 
Chennai: CM E.Palaniswami & O.Panneerselvam pay tributes to former CM Jayalalithaa at her Marina Beach memorial #AIADMKMerger pic.twitter.com/AQkIs9vTzt

— ANI (@ANI) August 21, 2017
# It will be decided after party's general body meeting: O. Panneerselvam on question of VK Sasikala's expulsion from party post
# 
Chennai: CM E.Palaniswami arrives at Jayalalithaa's memorial at Marina Beach to pay tributes post #AIADMKMerger pic.twitter.com/93CR28Xfhn

— ANI (@ANI) August 21, 2017
# 
Amma's blessings & wishes of party cadres made it possible. Thank CM E.Palaniswami & leaders of his faction: O. Panneerselvam #AIADMKMerger pic.twitter.com/xk021DfuKc

— ANI (@ANI) August 21, 2017
# 
Visual from outside AIADMK party head office after #AIADMKMerger. pic.twitter.com/S4gNUbJCMT

— ANI (@ANI) August 21, 2017
# An official release from Raj Bhavan said Governor C Vidyasagar Rao has accepted the recommendation of Chief Minister Edappadi K Palaniswami to designate O Panneerselvam as Deputy CM and allocate Finance to him.
# 
Our first priority will be to retrieve the two leaves symbol. We will fulfill all the promises made by Amma: E Palaniswami after merger pic.twitter.com/C0LoFjXfZo

— ANI (@ANI) August 21, 2017
# E Palaniswami says 11-member coordination committee will run the party.
# Amma (Jayalalithaa) has said before that after me AIADMK will last over 100 years. We all will make sure it happens: E Palaniswami
​# 
I will be co-convener. K. P. Munusamy will be deputy co-convener: TN CM E.Palaniswami pic.twitter.com/Y039CwmhbN

— ANI (@ANI) August 21, 2017
# Had few difficulties in recent times,similar to what happened after MGR's demise,but both OPS & EPS came forward to unite party: KP Munusamy
# I am happy to be back in your midst: O Panneerselvam at AIADMK Merger meet 
# I thank CM EPS and his faction leaders: OPS on AIADMK Merger  
Palaniswami and Panneerselvam arrived at the party headquarters today afternoon and formalised the merger deal. 
In a resolution on August 10, the chief minister's camp had already delegitimised Deputy general Secretary and Sasikala's nephew TTV Dhinakaran setting the stage for a merger. 
The faction led by Dhinakaran had flayed the merger attempt as a drama. 
The deputy general secretary's faction said their leader "has the ability to put a full stop" to whatever decision that could be taken related to a merger.