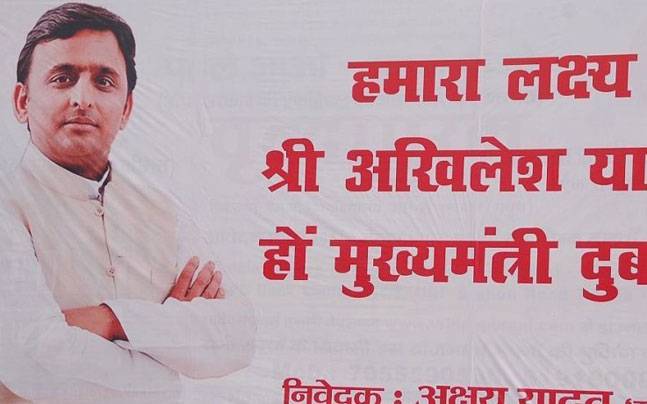 As UP Chief Minister Akhilesh Yadav gears up to launch a state-wide Vikas Rath yatra today, the ongoing power struggle in the ruling Yadav family appears to have eclipsed the election campaign of Samajwadi Party.
According to an India Today report, Samajwadi Party supremo Mulayam Sing Yadav and unit president Shivpal Yadav are missing from the new campaign posters. Even the party's election symbol, the cycle, is also missing in the posters. 
Moreover, the usual red and green pattern of the background of the posters has been changed to white and the only leader visible on the posters other than Akhilesh is Firozabad MP Akshay Yadav.
Akshay is son of Samajwadi Party leader Ram Gopal Yadav, who was expelled by Mulayam Singh from the party for six years on charges of 'conspiring with the BJP' on October 23. Ram Gopal is believed to be to the brain behind the new posters. 
In a letter to Mulayam Singh Yadav, Akshay had stated that the party's young leaders want to see Akhilesh Yadav as the chief minister of UP again. 
"The young leaders of the party want Akhilesh as the chief minister of the state and will not accept any other leader," Akshay was quoted by India Today as saying. 
After the public fallout with Shivpal, both Akshay and his father Ram Gopal have so far restrained themselves from all party activities.

 

Mulayam also has chosen to avoid them and it is believed that he skipped the annual Diwali celebrations in Saifai because Ram Gopal was present there.
Several Samajwadi Party leaders from Agra and Firozabad told that Akshay will probably not participate in any party activities. Even on social media platforms, Akshay has remoed his association with SP and is using the new campaign poster as his profile picture.