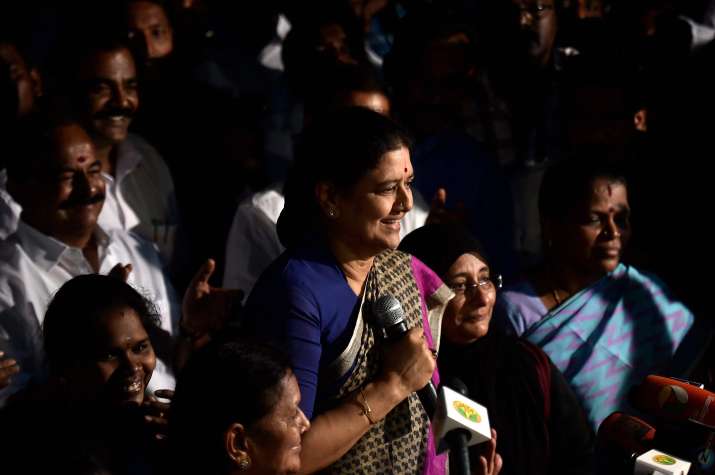 AIADMK General Secretary V K Sasikala will stay on Monday night at Golden Bay Resorts at Koovathur, around 80 km from Chennai, where party MLAs have been camping since Wednesday night amid intense battle for power with caretaker Chief Minister O Panneerselvam. 
For the third day in a row, she held 'key discussions' with party MLAs put up at the resort where she announced that she had brought a set of dresses and that "we could return together tomorrow". 
Later, repeatedly invoking the legacy of party veterans, late MG Ramachandran and late J Jayalalithaa, she said AIADMK workers 
would work by their ideals of public service. 
Sasikala said a grand memorial will be built at the burial site of Jayalalithaa, which will "put everybody in awe". 
She hit back at Panneerselvam for claiming that the AIADMK MLAs were being held hostage, asking whether they were "animals" to be herded like he was claiming and asserted that they were "free". 
Sasikala charged those in the Panneerselvam camp with intimidating her party MLAs, especially the women, and asked if this was right on the part of the chief minister as he also held the police portfolio and was entrusted with upholding law-and-order in the state. 
"But, we should be calm. This is our rule and we will rule for the rest of the term," she said, adding that the party workers will do every bit to uphold the legacy of MGR and Jayalalithaa. 
Sasikala claimed that her party enjoyed widespread public support and that Jayalalithaa "is living in the hearts of every person" in Tamil Nadu. 
She recalled Jayalalithaa uniting the AIADMK after MGR's demise and steering it through difficult times. 
Earlier, Sasikala visited the houses of local villagers and interacted with them. 
She also named a girl child after Jayalalithaa. 
The judgement in the disproportionate assets case involving Sasikala is likely to be delivered at 10:30 am, according to the Supreme Court causelist of cases to be taken up by it tomorrow.
The political future of Sasikala, a long-time friend of Jayalalithaa, would entirely hinge on the Supreme Court judgement.
Sasikala, who was elected AIADMK legislature party leader on February five, will be rendered ineligible for contesting an assembly election in the event of conviction, thereby stifling her ambition of becoming the Chief Minister.
Meanwhile, Attorney General Mukul Rohatgi today advised Governor C Vidyasagar Rao to hold a special session of the state assembly within a week for a floor test to ascertain who between Sasikala and caretaker Chief Minister O Panneerselvam enjoys majority support of AIADMK MLAs.
In his opinion, sources said, Rohatgi has stated that "he (Governor) should call a special session within a week's time and have a composite floor test as was ordered by the Supreme Court in the Jagdambika Pal case".
The Attorney General has cited the 1998 Supreme Court judgement in the Jagdambika Pal case in which the apex court had ordered a floor test in the assembly to determine who between the two claimants -- Pal and Kalyan Singh -- commanded the majority support for chief ministership of Uttar Pradesh.
If the Governor, who has kept his cards close to chest since last Thursday, the day Sasikala staked claim to form the government, goes by the AG's advise, the dispute between the rival AIADMK factions would be decided on the floor of the House.
The Governor can also swear in Sasikala without the assembly having to go through the rigour of a floor test as she has already been elected the AIADMK legislature party leader.
Panneerselvam's revolt notwithstanding, she enjoys the support of an overwhelming majority of party MLAs, six of whom have shifted their loyalty to the caretaker Chief Minister.
Pannerselvam also has the backing of 11 MPs, including two of the Rajya Sabha.
The Tamil Nadu government today informed the Madras High Court, hearing habeas corpus petitions seeking production of two MLAs who were said to be lodged at a resort on Chennai's outskirts that apart from them 119 legislators kept there have recorded their statements saying they have not been illegally detained.
Tamil Nadu has a 234-member assembly and Sasikala looks set for a facile victory during a floor test, but an adverse court verdict can put paid to her chief ministerial ambition.
On February 5, Sasikala was elected as the party's Legislature Leader, a step towards her elevation as Tamil Nadu Chief Minister. 
However, two days later, Panneerselvam had revolted against her, alleging that he was forced to step down for her. 
Support has been swelling for Panneerselvam, with a state minister and six MLAs (one of them is also a Minister) and 11 MPs switching over to his camp.  
AIADMK's South Madurai MLA Saravanan and MP from Madurai R Gopalakrishnan today extended their support to Panneerselvam.
(With PTI inputs)