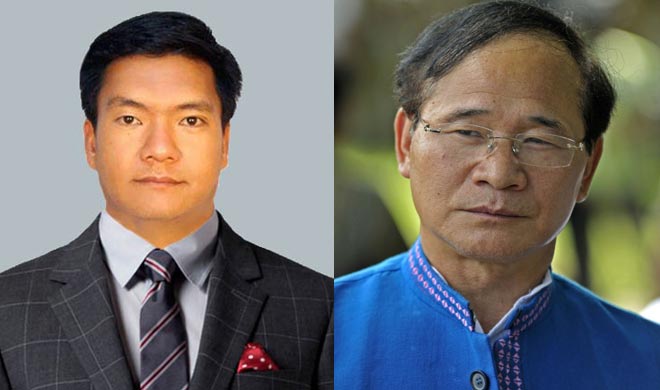 Itanagar: In what has come as a breather for the Congress, Pema Khandu, son of former Chief Minister Dorjee Khandu, is all set to replace Nabam Tuki as the next Chief Minister of Arunachal Pradesh as the later has put forth his resignation.
With this, Congress comes back in power in the state as the floor test has been averted for now.
Both Tuki and Khandu today met Governor Tathagata Roy and the former CM tendered his resignation from the post.
Raj Bhavan spokesperson Atum Potom said the Governor had accepted his resignation.
Earlier, Tuki resigned as Congress Legislature Party (CLP) leader, paving way for Khandu's election. 
Tuki, reinstated as the Chief Minister following a Supreme Court verdict on Wednesday, proposed the name of Khandu as the next CLP leader.
The proposal was supported by all the 44 legislators, including 15 Congress and 29 dissident Congress legislators who had joined the People's Party of Arunachal (PPA) in February.
The 44 legislators also include former Chief Minister Kalikho Pul, who unseated Tuki and became the Chief Minister in February.
"It's a big victory for the Congress in Arunachal Pradesh," Tuki said after leaving the Raj Bhavan. 
"The recent crisis was started by the BJP. However, all their evil designs have failed as the Congress has been able to put its house in order. I hope it will be big lesson for the BJP," he said.
Khandu said: "Tuki has tendered his resignation and I have handed over to the Governor the list of 44 legislators supporting me as the Chief Minister. 
"The Governor said he would go by the formalities and let us know about the next move."
Khandu, a graduate from Hindu College in Delhi, was inducted in the Tuki ministry in 2011 after his father died in a plane crash in Arunachal Pradesh. 
He was later given the portfolio of Tourism and Water Resource Development department. Khandu, however, resigned from the Tuki cabinet in 2014.
Asked about his swearing in ceremony, Khandu said he was waiting a response from the Governor. "I hope the swearing in ceremony will take place in a day or two," he said.
After the return of the 30 PPA legislators to the Congress on Saturday, the strength of the Congress has become 45, which includes the Speaker, Nabam Rebia. 
The Congress also said it has the support of two Independent legislators. The effective strength of the Arunachal assembly is 58 now.
(With IANS inputs)