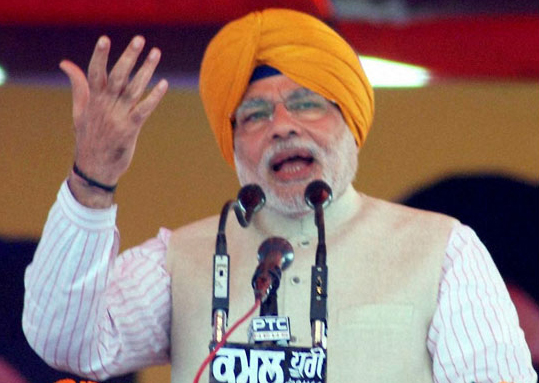 In an apparent bid to up its chances in the upcoming Assembly polls in Punjab next year, the Bhartiya Janata Party has set out on an exercise to seek the "blessings" from the Deras in the state.  
The state unit of BJP today said it will reach out to Deras or sects to "get their blessings" for the hustings. 
"We will go to Deras ... and we will go to them openly," Punjab BJP president Vijay Sampla said here when asked whether the party will approach the Deras in the wake of Punjab polls. 
"Where even four people are standing, we will meet them. They may have their issues," said Sampla, who is also a Union minister.
Notably, political parties in Punjab woo Deras near elections as many of them have a sizeable number of followers in the state. There are around 10,000 Deras in Punjab alone. 
Asked about the swapping of seats with BJP's ally SAD, he said a meeting with the Akalis in this regard will soon be held. 
"We will sit and decide (on swapping). There should be a consensus on what they (Akalis) want and what we want," he said. However, he evaded a reply on the number of seats to be swapped. 
Notably, BJP is seeking Batala, Barnala, Garhshankar and Mansa and is ready to leave Amritsar East, Abohar, Rajpura and Ludhiana West.
As per the alliance between SAD and BJP, the saffron party contests on 23 seats out of 117 assembly constituencies.  
Asked whether the party will change its candidates in the upcoming polls, Sampla said it is the prerogative of the party high command to take a decision in this regard. "However, there may be the possibility of changing (candidates)," he said. 
Asked whether BJP will also ask its ministers and MLAs to wear 'Lotus' badge like SAD leaders wear 'Akali' badge, Sampla said, "We will tell them that it is good if they wear the badge. But it will not be made mandatory."
However, he added that he would not wear the badge of the party symbol when attending any government meeting. "I shall wear the badge if there is a political meeting," he said. 
Notably, Congress members had objected to the wearing of 'Akali badge' worn by Akali MLAs Iqbal Singh Jhundan and Gurpartap Singh Wadala who chaired the seat of the Speaker during the monsoon session of Punjab Vidhan Sabha this month.