Follow us on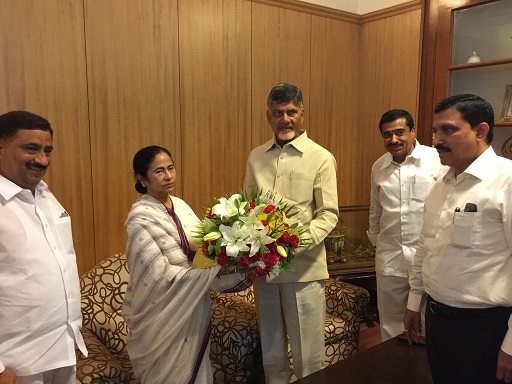 Upping the ante ahead of 2019 general elections, West Bengal Chief Minister Mamata Banerjee and her Andhra Pradesh counterpart N. Chandrababu Naidu on Wednesday said their participation in the swearing-in ceremony of H.D. Kumaraswamy as Karnataka CM was meant to strengthen the coming together of regional parties and they would not allow obstacles in this effort.
"We are very happy that Kumaraswamyji is taking oath today (Wednesday) and we congratulate Karnataka's brothers and sisters. We are grateful that we are invited. All regional parties are present here to support Kumaraswamyji and his government. We hope for the best. We will keep in touch with all regional parties together so that we can work for the development of the nation," Banerjee said.
She said "If the state is strong, the centre is always strong. And that is why our mission and vision is very clear. We will meet each other, talk to each other and that will give us more strength for the future of the party. Chandrababu and I came here to strenthen regional parties and we will give do it continuously." 
Banerjee said they would not leave any scope for any party to place obstacles in the coming together of regional parties. "If we make any promise, we fulfil it. We don't fear anybody. We work with courage. We will do what will be in the favour of regional parties and the country." 
Asked if Congress will be kept away from this effort, Banerjee said: "Congress will do what it wants and we will do what we want. Congress is a separate party. This joint government of Congress and Kumaraswamiji is going on here (Karnataka). We came to support Kumaraswamyji because he is leading the regional party."
"If regional parties get together, they will have maximum strength. This is a simple thing that should be understood... It is said in Hindi that whoever will fight us will be destroyed (jo hamse takaraega wo choor choor ho jaega)," Banerjee said. 
Naidu said this is a very good occasion and also a very important event as Kumaraswamy is taking oath. "We want to express our solidarity. TDP is ready to go to the oath ceremony with Sonia Gandhi and Rahul Gandhi." 
Asked about any front against Prime Minister Narendra Modi and Bharatiya Janata Party, Naidu said: "What we are doing is we are watching. We all want to promote more and more regional parties that is our and Mamatai's mission."
Prominent leaders of around a dozen political parties including UPA Chairperson Sonia Gandhi, Congress President Rahul Gandhi, BSP supremo Mayawati, Samajwadi Party President Akhilesh Yadav, NCP chief Sharad Pawar, RJD leader Tejashwi Yadav, RLD chief Ajit Singh, CPI-M General Secretary Sitaram Yechury and actor-turned-politician Kamal Haasan of Makkal Needhi Maiam are all set to share the dais during Kumaraswamy's oath-taking ceremony on Wednesday in a "show of strength" of the opposition parties ahead of the 2019 Lok Sabha polls, in a possible line up against the BJP.
Besides these political heavy weights, Chief Ministers Arvind Kejriwal (Delhi), Pinarayi Vijayan (Kerala) are also expected to attend the oath-taking ceremony. 
(With IANS inputs)